MURFREESBORO, TN — Beverly Keel, chair of MTSU's top-ranked Department of Recording Industry, will take the reins of the university's College of Media and Entertainment as its new dean, University Provost Mark Byrnes announced to campus Wednesday, Oct. 23.
Keel, a six-time honoree in the Nashville Business Journal Women in Music City Awards and a member of its Hall of Fame, will begin her new role Jan. 1.
"I want to provide our students with the opportunities, knowledge and experience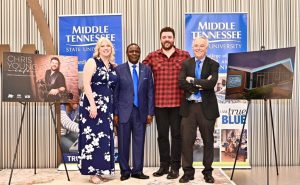 necessary to compete in the quickly changing workplace," Keel said. "I want to add value to a degree from MTSU's College of Media and Entertainment and do work that continues to make our faculty, staff and alumni proud."
In his announcement, Byrnes credited Keel's "significant experience in journalism and media arts as well as in the recording industry," the three core disciplines represented by the college.
MTSU President Sidney A. McPhee echoed that point, adding, "Chair Keel's deep and extensive ties to the recording industry, as well as her considerable experience in journalism and strategic media, elevated her to the top of an impressive list of finalists."
Keel, who received her bachelor's degree from MTSU in 1988, joined the recording industry faculty in 1995 and was named chair of the department in 2013.
"Attending MTSU was one of the best decisions of my life because it prepared me for a multifaceted career in media and entertainment and profoundly shaped my life," she said.
She succeeds former USA Today editor-in-chief Ken Paulson, who returned to the faculty earlier this year to serve as director of MTSU's newly created Free Speech Center.
Keel, who will be the first female dean in the college's history, joined forces with Tracy Gershon and Leslie Fram in 2014 to create Change the Conversation, a coalition designed to help fight gender inequality in country music.
During her tenure at MTSU, she also served as director of the John Seigenthaler Chair of Excellence in First Amendment Studies and as president of the International Association for the Study of Popular Music-US.
In 2010, Keel took a leave of absence from MTSU to serve as senior vice president of media and artist relations for Universal Music Group Nashville. There she developed and implemented extensive media campaigns for several UMG Nashville artists, including Lionel Richie, Scotty McCreery, Vince Gill, Sugarland, Jamey Johnson, Josh Turner, Lee Ann Womack, George Strait and Kip Moore.
She spent a decade as the Nashville correspondent for People magazine and was the celebrity columnist at The Tennessean newspaper for two years, winning the Charlie Lamb Award for Excellence in Country Music Journalism.
She was an editor of American Profile magazine, for which she wrote cover stories on former President Jimmy Carter, the late Rev. Billy Graham, former first lady Laura Bush, actor Andy Griffith, author John Grisham and NFL Hall of Famer Joe Namath. She also served as editor of CMT Life.
Her work as a journalist has appeared in Parade, InStyle, New York, Oxford American, Weekly Standard, Rolling Stone, USA Today, Country Music, New Country, Country Music Today and Music Row magazines.
A former music industry columnist for the Nashville Scene and Nashville Banner newspapers, her journalism has received awards from The Associated Press and the Association of American Newsweeklies.
Keel has served as a commentator on country music personalities and events and has been featured on ABC's "Six Degrees of Martina McBride" and CBS' "48 Hours Mystery" as well as numerous shows on VH-1, Bravo, CMT, GAC and other networks. She has been quoted as a music expert in publications such as The Washington Post, Chicago Tribune and Reader's Digest.
A graduate of Leadership Music, Leadership Nashville and Leadership Middle Tennessee, she serves as a board member of The Recording Academy, which stages the Grammys; Music Makes Us; Owl's Hill Nature Sanctuary; the W.O. Smith Music School; and The Women's Fund. She is a past member of the Nashville Mayor's Music Council, a past board member of the Tennessee Performing Arts Center, an editorial board member of the Journal of Popular Music Studies and a member of the International Women's Forum.
In 2015, Keel was inducted into the Metro Nashville Public Schools Hall of Fame; in 2016 she was named an honoree of the YWCA Academy for Women of Achievement; and this year she was named to the Source Hall of Fame, which recognizes accomplished women professionals working in Nashville's entertainment industry.
A Nashville native, she earned her master's degree from the Columbia University Graduate School of Journalism.
Keel was also instrumental in securing the support of former student and multiplatinum country artist Chris Young and Country Music Hall of Famer Charlie Daniels for two centers on the MTSU campus that bear the celebrities' names.
"Being named dean of the College of Media and Entertainment is the greatest honor of my career," she said. "I take this responsibility not only seriously but also personally, because I was once one of the students walking these very halls."