McPhee to giving series of guest lectures as part of ongoing relationship
BEIJING, China — MTSU President Sidney A. McPhee began a lecture series Wednesday (May 9) that will take him to four Chinese universities as part of a concerted effort to share American culture with high-ability students who are considering potential study-abroad opportunities.
McPhee's first stop on his lecture circuit was at North China University of Technology, on the western edge of the Chinese capital, where he answered questions about MTSU and stressed the importance of building and maintaining bridges between the two countries.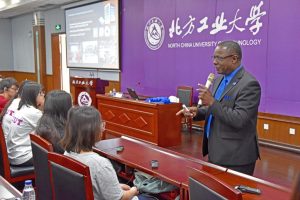 The president stressed to the NCUT students that study-abroad opportunities provide them a way to gain "an accurate reflection of the people and activities of a country," which better prepares them for success in an increasingly global society.
"Many Americans do not realize how beautiful a country that China is until they come and visit," McPhee said. "Many Chinese do not realize until they come and visit that America is a broad, friendly country — not just New York and Los Angeles — with good people and many great attributes."
Answering a question from a Chinese student who wondered if the U.S. was like what he saw in recent action movies, McPhee cautioned his audience that such entertainment in both China and the U.S. can sometimes reinforce stereotypes.
"We often let popular media build a perception that is not necessarily accurate," he said. "Find out for yourself, with your own eyes, and get an accurate reflection of the people and activities of a country."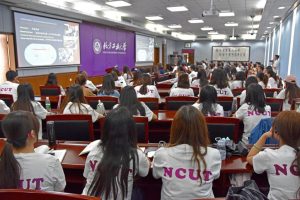 In addition to detailing the more than 300 undergraduate and graduate programs at MTSU, McPhee also underscored how the American higher education system affords academic challenges and styles that are distinctly different than schools in China.
"By learning from and about one another, we become not just better educated, we become better human beings, and we better our world," he said. "We need more bridges to encourage the two-way flow of ideas, knowledge, and cultural appreciation."
NCUT, founded in 1946, is a multidisciplinary university that combines the natural sciences and engineering with liberal arts, economics, management and law. It includes eight colleges with an enrollment of more than 10,200 undergraduate students, 1,500 graduate students, 200 international students and 2,400 students studying at the College of Continuing Education.
The university is also active internationally through more than 30 cooperative partnerships and exchanges. It has established partnerships with universities in the U.S., Japan, Germany, Great Britain, France, Australia, New Zealand and elsewhere.
MTSU has made international engagement one of its strategic priorities. As such, McPhee worked to strengthen MTSU's international undergraduate and graduate enrollment, particularly in China. He also has expanded education abroad and cultural opportunities and developed research collaborations with international partners.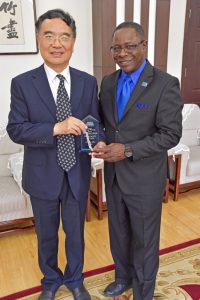 The president, who also lectured here in late 2013, presented a special award from MTSU to NCUT Chairman Zheng Wentang, who in turn thanked McPhee for the long friendship between the two institutions.
McPhee's trip, organized by and in support of MTSU's Confucius Institute, will include stops in Hangzhou and Nanning. Joining him on the trip is state Sen. Bill Ketron, R-Murfreesboro, and businessman Paul Martin, the first graduate of MTSU's Honors College and a supporter of the university's China outreach and study into ginseng.
In Hangzhou, the president will deliver a keynote address at the 110th anniversary celebration of Hangzhou Normal University, MTSU's partner in the operation of the Confucius Institute on the Murfreesboro campus. McPhee will also participate in the annual meeting of the MTSU Confucius board with HNU officials and will lecture at the university.
Then, he will go to Changsha to lecture at Hunan Normal University followed by a trip to Nanning, where he will tour several traditional Chinese medicine facilities with MTSU professors and other supporters of the joint research effort between the Guangxi Botanical Garden of Medicinal Plants and the Tennessee Center for Botanical Medicine Research.
McPhee will also lecture at Guangxi University in Nanning, one of the top providers of international students to the Murfreesboro campus.