By Logan Langlois
MURFREESBORO, TN — Civil rights representative Sheryl Huff of the National Action Network, has sounded the alarm around a Department of Child Services case quickly being revealed as a possible violation of local Murfreesboro resident, Brenda Johnson's, civil rights. Her questions begin with the department's taking of Johnson's children, since which Huff claims, Johnson says she has not received regular updates regarding their well-being, nor consistent communication as promised by state agents. Huff also claims that DCS has been consistently changing their reasons for keeping Johnson's children based on what charges they feel they can best make stick. She alleges possible collusion between Johnson's hired legal attorney Michael Hollins, Murfreesboro Judge Tavis Lampley, and the prosecution.
Johnson's children were originally held following a visit Johnson's twin sister Linda made to Johnson's house in early March. After an argument between the sisters, Linda called law enforcement to report Johnson regarding a warrant she had out for truancy, knowledge Johnson claims Linda only had access to because she read Johnson's mail before Johnson. Responding police would later arrest Johnson who had herself already called authorities to her house several times, asking that they help her remove Linda from her house after the twin had repeatedly refused to do so. Just before her arrest, Johnson claims she was then told to "shut up and sit down" after telling an officer she was sent home from her work earlier that day due to chest pain and the high heart rate she was still then experiencing.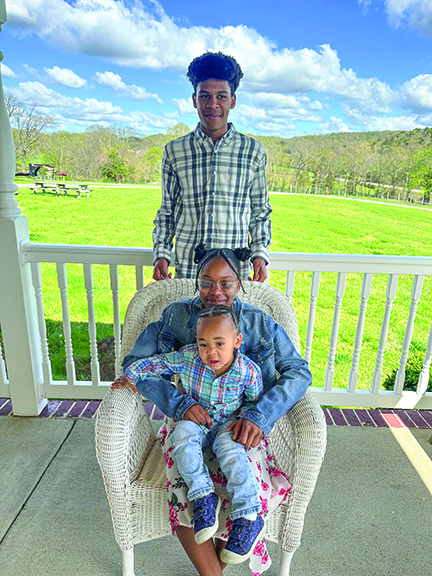 "The [DCS] caseworker went to the house and saw the kids, talked to the people that was in the house, and she made a decision to take the kids," says Sheryl Huff.
"She didn't call no supervisor, she didn't call no one in charge, she just made that decision."
Since moving to Murfreesboro, Johnson alleges that both she and her children have received racial harassment from neighborhood children. On many such occasions, Johnson claims her children told her they had been called racial slurs, including some Johnson had never heard before such as "nig-lit", and other hate speech of a similar nature. She also claims to have suffered neighborhood kids attempting to look through her windows while she undressed, leaving trash in her yard, and placing a rope shaped to resemble a noose on her lawn. All of which she would report to law enforcement with avail.
Huff elaborates that the truancy Johnson was charged with was a result of her two eldest kids not attending Blackman's High School and Middle School respectively. Johnson later detailed how her oldest son faced much of his bullying at school, often in the form of several white children approaching him uttering slurs, or baiting him into a fight. On one such occasion, Johnson claims a student attempted to stab her son in the forehead with a pencil and "called him the n-word."
On another occasion, Johnson's son was beaten in a school bathroom by several white students. Both times Johnson says she was told by the school administration that nothing could be done, despite her evidence of severe and continuous harm being done to her son.
Huff also claims that attorney Michael Hollins knowingly accepted the case aware he was under-equipped to represent Johnson and has subsequently overcharged her for basic or incomplete services. Johnson states she believes her attorney shared privileged information with the prosecution, who then used the information to further build their case. Attorney Micheal Hollins and the DCS caseworker currently charged with handling Johnson's case were unable to reach for comment.