Staff Reports
NASHVILLE, TN — It may feel as though like our country is marching backward. But I've been part of the history of our country for a long time and have learned to look deeper, past the surface. And what I see now makes me incredibly hopeful.
Youth in our community spoke boldly from the heart at the community meeting held with Pastor Howard Jones.  They talked about their feelings and their knowledge in dealing with police, citizens and issues of survival.
Twelve-year old Elijah Grice, a member of Backfield in Motion and student at East Magnet Literature School said, "Violence is something we all have thought about and live with seeing our youth shooting each other." Fellow Backfield in Motion member, Marcus Boullard, 12, and a 7th grade student at Gar-Mar Preparatory said, "I take responsibility for myself.  If I do something wrong, I know I have to pay for it."
Keshandria Hayes, a 17 year old senior at East Magnet, who just won first place in an Essay contest from the Consortium of Doctors, LTD., said, "One of my friends was killed recently and that really hurt badly.  We need to make changes in our community and stop shooting and killing, especially teenagers.  We are making it hard on ourselves."
Pastor Jones explained we have to stop our individualism and become a collective community again.  "We must show care and concern for our neighbors, families and children. Above all talk with our children, and not at them, which allows us to listen intently to them and have real conversations." The youth also spoke about police shootings.  Some explained they were fearful of the police and felt the police did not have any regard or respect for them, especially as minorities, as well as overall citizens.
Community participants said killing is killing, whether police oriented or citizen oriented or done by the youth in our community; these senseless killings must end.  Pastor Jones cited the two police oriented shootings in the last two years, Jocques Clemmons, February 10, 2017 and Daniel Hamrick, July, 2018.  He also mentioned Officer Matthew Cammarn who was assaulted in Cayce Homes in April, 2016 but did use deadly force on his assailants.  
Pastor Jones said, "It may feel as though situations in our community make it seem as though we are marching backward.  However I have hope, faith and a plan, for a better tomorrow in our future.
If we work harder and smarter, do some basic things in our community, search past the surface and look deeper into our souls, then we can all reap the benefits of our hope and faith." 
Respect or Disrespect seem to be one area that is sensitive and crucial regarding senseless crimes; Blowing up, just because. Eighteen year old Ronnie Swanson said, he wants to be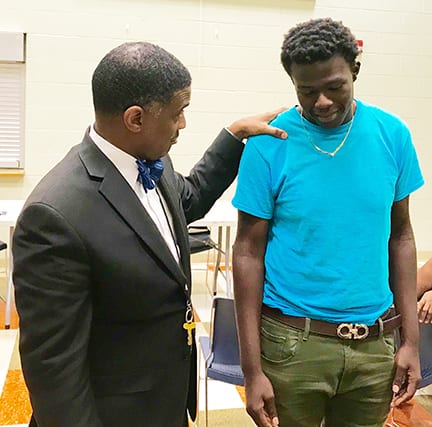 respected and when that does not occur, he gets angry. "To get respect, you have to show respect," he said.  Malik, offered a different perspective saying, "In some incidents, there may be a time when you give respect and may not get it back and that's OK," he added. Another participant said, it is important to understand how we define respect.
Pastor Jones added some solutions are basic, while others are major.   As a Pastor and an educator, he believes that our children must be taught survival tactics and one of those is self-respect.  Additionally being well-read for life's understandings is significant.  He recommends reading books written by J.A. Rogers, Chancellor Williams, Haile Selassie and Yusef-Ben Jochannan to know the great stories. "Learning about oneself and one's history allows an individual to respect oneself unapologically.   We must become alive to stay alive." he added. Discussions ended with ways to survive, which include:
• Respect
• Knowing when to walk away to survive
• Being humble to be strong
• Travel & Exposure
• Reading to understand