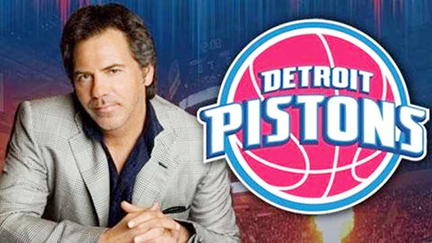 By Ron Wynn
NASHVILLE, TN — Last week's column on Detroit Pistons owner Tom Gores and the controversy raised by some prison reform advocates over his involvement with Secururs Technologies brought a response from Daniel Whelan, a representative of his investment company Platinum Equity. We're always glad our columns and articles are widely read, and are giving them space to present their responses in full.
First, they wanted our readers to know the NBA has weighed in on the question of whether Gores should divest his interest in the Pistons. Here is their response: "We understand Worth Rises' passion for prison reform and have been in regular communication with Tom Gores regarding their concerns.  Mr. Gores and his colleagues have had ongoing discussions with a number of non-profit organizations focused on similar reform and we support their efforts to address these important issues."
Second, in addition to the league response, there is a response from Securus CEO Dave Abel. Here is his statement:
 "Under the leadership of Platinum Equity, Securus Technologies is working to make the tools incarcerated Americans and their loved ones use to stay connected as affordable and accessible as possible. Under new leadership our company has reduced the average cost of a phone call to $0.15/minute, cut consumer fees by 30 percent, offered zero-commission models, and made hundreds of millions of calls available free of charge during the pandemic. We appreciate the NBA acknowledging Tom Gores' efforts that have occurred with other organizations who are also focused on reform.  We know we have much more work to do and we expect to be held accountable – but that must begin with an accurate picture of the work being done to transform the company.  To create more transparency, we publish quarterly progress announcements to ensure the public is aware of the steps that have been made to better serve our customers."
Also, Gores responded to a question on this issue posed by Detroit News reporter Rod Beard Dec. 26, after our column had been written and published. Beard's question: "Is there movement you can report or are there change or anything that you can do to improve that situation that you're looking at right now?" Tom Gores' response: "We have been doing it, it's just that not everybody knows it. Maybe we've even under communicated on it, but we have been really doing a lot of work to reform the industry. I just think this is a unique opportunity for me and for us to impact our country and the world because it's not really about this one company; it's about an industry that really does need to be changed."
"We've recognized it, but we've been doing it. We can communicate with you guys more and more on this topic. We're aligning ourselves with really important people, influential people. The one thing about the space and that industry is we really have to keep partnering with people. We have very, very productive activists that we're speaking to. We're drawing on people from the league. We're discussing things with the NBPA. I think we're doing it."
"This is even beyond basketball. The one thing you guys know about us is – you may not always agree with our basketball decisions – but I think we'll always do right by the community. There a lot of reform required that nobody's had the guts or the courage to actually push. The industry is taking note of us. On our end, just be patient. We're working hard and we're making real changes in very specific areas that impacts families."
Whelan's statement also cites that the efforts of Gores to reform Securus have been recognized by the current head of the National Newspaper Publishers Association and former NAACP head Dr. Benjamin Chavis. He's written an editorial in support of those efforts. We won't include Dr. Chavis' entire editorial, but here's a significant portion:
"In my civil rights career, I have experienced firsthand how prisoners and their families are taken advantage of and financially challenged by jail and prison regulated services. At least one of these companies, Securus Technologies, appears to have taken this criticism to heart. In 2017, Securus was acquired by Platinum Equity, which is headed by Detroit Pistons owner Tom Gores. At the time, many of us would have reasonably assumed that a private equity firm would simply extract as much value from the company as possible and then sell it at a profit."
"But that's not what Gores did. Instead, he appears to have undertaken an effort to change some of the problematic business practices that have long plagued the correctional telecom industry… At the beginning of this year, Gores brought in a new CEO for Securus, who committed to lowering their prices and improving the services they provide to incarcerated Americans. If you approach such a promise with a healthy dose of skepticism, you're not alone — especially knowing the history of this industry. But for the moment, Securus seems to be making good on its promises."
"Was that enough? No. Far from it. But it was an important start, and one that no other company in the prison telecom space has so far matched… Securus also needs to go further. Although they have lowered costs, their products remain far too costly for some of the most vulnerable members of our society. And their competitors need to follow suit — including the biggest operator in this space, Global Tel Link."
Lastly, our apologies for leaving the i out. of Mark Barnhill's name. While we did not and do not take the position that Gores divest his Pistons' ownership, we're glad to allow his company to update and add information to our previous column, and we thank them for their time and interest in the Tennessee Tribune.