By Ashley Benkarski
ANTIOCH, TN — Scars Uncovered, a nonprofit organization centering burn survivors in its mission, is celebrating its fifth year with a casino-themed 2019 Fall Soiree fundraiser taking place from 5-8 p.m. Nov. 9 at the Fifty Forward Patricia Hart building in Nashville.
The organization's founder, Andrea Pitts, was 18 months old when she reached for a pot on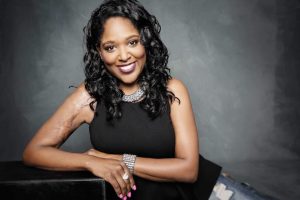 the stove while her mother's back was turned and suffered severe burns on over 30 percent of her body. She underwent surgery as well as physical and occupational therapy but her spirited nature remained on full display with those she came in contact with.
Pitts has turned trauma into healing, delivering packages with carefully curated items to patients in the Vanderbilt burn unit through her 501(c)(3) organization. The organization also assists burn survivors with compression garments and other financial needs. 
Seeing a need for acknowledgement and services in the burn survivor community, she decided to found her own organization to assist this underserved population after years of participating in other charity work, she said.
Launched in 2014, Pitts's nonprofit has helped almost 1,000 burn survivors. While her "Boxes of Love" provide everyday needs such as lip balm and lotion, items such as playing cards, gum, eye masks and ear plugs are also included. Notecards delivered with the packages provide a personal touch with messages of hope.
She focuses on burn survivors because she has been in their shoes and is still experiencing the journey, she said, noting that they are often forgotten in many outreach efforts and fundraising initiatives. As a burn survivor she understands the resulting physical and mental trauma and healing process that affects the injured and their caregivers. 
She also knows the financial stress that results from hospital bills and medical supplies firsthand. When her parents were unable to pay the extensive costs of her inpatient treatment the hospital wanted to deny further care, leaving the family scrambling for a solution. 
The determination of her parents led to finding support from organizations such as the  Shriners. Ultimately, a sizeable amount of the bill was paid by the Shriners and some of the remaining expenses were written off. 
Pitts not only considers her pain but that of her parents as well, especially her mother who was with her when the incident occurred, she said. 
Her mother and father's involvement in the organization has helped their family realize that the accident, while traumatic and difficult, led Pitts to help so many others in the five years since she started her organization.
While monetary donations offset the cost of packaging and are encouraged, those interested in donating items for the boxes are welcome to do so. Nivea creme in one-ounce tins, Vaseline Advanced Healing Lip Therapy balm and Johnson & Johnson Reach Cleanburst Dental Floss are just a few of the items needed. Boxes can be sponsored with a donation of ten dollars. Donations are tax deductible.
Pitts is working to expand the organization's reach into more hospitals and plans to offer "Boxes of Love" for outpatient burn survivors in the near future. She hopes to cultivate business partnerships to boost these endeavors and spread awareness of her mission, she said. If your business would like to partner with Scars Uncovered, Pitts encourages reaching out to her via email at scarsuncovered@gmail.com or calling (615)933-9083.
The Fall Soiree will offer casino games (minus gambling), music, food, adult beverages, a silent auction and door prizes. Complimentary valet services will also be available.
To purchase tickets for the Fall Soiree or for a full list of support opportunities visit www.scarsuncovered.org.