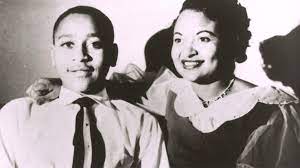 By Ben Jealous
At the heart of the story that President Biden preserved last week by creating our newest national monument are a mother and son, Mamie Till-Mobley and Emmett Till.
That's especially moving for me because so much of my understanding of what the Tills endured and why their story remains essential today comes from my own mom's experiences.
Like Emmett, she was in her early teens in 1955 and growing up in West Baltimore. The ritual he was taking part in by traveling from Chicago to Mississippi that summer was a universal one for Black kids living in destinations of the Great Migration, one that still happens today.
Despite the indignities of Jim Crow, everyone seemed safe when they went back to Grandma's. Emmett's torture and lynching by two White men incensed that he whistled at a White woman exposed the vulnerability of Blacks anywhere in South. But rather than cower in response to the brutal murder, my mom and many other young Black people dove deeper into a lifelong struggle for civil rights.
Mamie Till's courage to leave open her son's casket so tens of thousands of mourners in Chicago and the entire world could see his bloated, disfigured corpse galvanized that growing civil rights movement.
I went to Mississippi in my early 20s to organize opposition to the governor's plan to close three historically black colleges and turn their campuses into prisons. Nearly 40 years later, I could still see the deep trauma in the souls of Black Mississippians who were Emmett's age when he died.
One night, my dad called to ask me to leave the state, if only for a short time. "Your mom keeps having the same nightmare. She hasn't slept for days," he told me. "She keeps seeing your face on Emmett Till's beaten body."
The deep concern apparent in those dreams wasn't irrational. The rhetorical violence of Jim Crow always accompanied the physical violence of lynchings. That culture persisted. The Jackson newspaper where I later worked got shot up in drive-bys several times in much the same way a plaque at the place where Emmett's body was pulled from the Tallahatchie River has been repeatedly vandalized (with that site now part of the national monument, those crimes will be a federal offense).
At a time when we see racist rhetoric and dog whistles find renewed popularity, the Tills' story is a reminder to all of us that there's a well-worn path from hateful language to violence to the murder of a 14-year-old boy. As it's been since colonial times, that rhetoric exists to divide poor and working-class people of all races so that they can't unify around the political and economic interests they all share.
There are signs of hope, even in Mississippi. In November, the state could elect a populist Democrat as its governor, unseating the Republican heir of the governor I opposed 30 years ago who revived racist rhetoric from that high office.
We create national parks and national monuments to preserve places, people and ideas that define who we are as a country. Emmett Till should be alive and relatively anonymous in his 80s, not dead from an infamous attack. His mother should be remembered for anything other than making Americans look at just how cruel they can be.
Being able to visit where Emmett's body was recovered, where he was eulogized, and where an all-White jury acquitted his killers gives us the chance to measure how far we've come and accept how far we've left to go.
Ben Jealous is executive director of the Sierra Club, the nation's largest and most influential grassroots environmental organization. He is a professor of practice at the University of Pennsylvania and author of "Never Forget Our People Were Always Free," published in January.