By Vivian Shipe
KNOXVILLE, TN — Ronni Chandler, Project GRAD Executive Director,  stood before them with the report they had requested and with the push of a button presented a PowerPoint report that confirmed what over 1,000 people who showed up before the Knoxville School Board over a year ago in support of Project GRAD already knew, the program is making a difference in the lives of the students it serves.
In April of 2018, citizens of Knoxville filled the Board of Education meeting room, the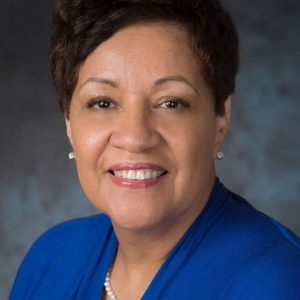 hallways, and the lawn outside the building with over 1,000 people in protest of the school board proposal to cut the GRAD program. That meeting lasted over 7.5 hours. The program was saved, but funding was cut and metrics were set in place with a five year MOA put in place by the board with a requirement that GRAD appear before them yearly.
The metrics were not only met, GRAD blew them out of the water. The numbers presented to the board as part of their comprehensive report, were pulled from the school boards very own research tracking.
Metric One: Boost graduation rates at Austin-East and Fulton High Schools by 1.5% yearly: the goal of A-E was 78% and they achieved 81% and Fulton with a goal of 74% increased to 86%.
Metric Two: Increase  post secondary enrollment rates by 2.7% yearly: Austin East saw an increase of 50.8%, their goal was 40% and Fulton whose goal was 48% saw an increase of 51.9%
Metric Three: Increase the number of seniors eligible to receive the $4000.00 scholarship given by Project GRAD by 4.5 percent yearly. This goal was also met as the goal set was 36.16% and Grad achieved 38.6%
The numbers also reflect what educational  and other organizations across the state have recognized and honored over the last 12 months; GRAD,  which stands for Graduation Really Achieves Dreams has been around for 19 years and is a flag ship program to be modeled nationwide. 
Project GRAD scholars exceed the national average of higher education completion for similar students. They have also been recognized on the state level as a high impact program and recently received recognition from the Women's Fund of Tennessee and was a Centro Hispano Ally Award recipient for their work in serving Latino children and their families.
Project GRAD serves two high schools, two middle schools and ten elementary feeder schools in Knox Counties inner cities top five neediest zip codes. 
They have a staff of 18 with 14 members who directly interact with students on a daily basis. They operate on a budget of 2.1 million dollars of which Knox County only provides $500K which can only be used for the high schools, but receives the free benefit of over $1.5 million in resources provided thru partnerships and sponsors to GRAD for the schools. 
When the budget was cut in 2018 and there was a short fall of over $365K previously provided by the board budget; it was Senator Tim Burchette who was then the mayor and the Knox County Commission who stepped up and provided the funding to meet the shortfall caused by the board cuts ensuring this important program would survive to continue the work it has been quietly doing for almost two decades: remove barriers and provide intentional support for students from disadvantaged circumstances.
Project GRAD believes there is greatness in every child.