By Mac Arthur Howard III
BRENTWOOD, TN— Philanthropy and youth aren't exactly words often associated with one another. But Nolan Griggs, Brentwood high school senior and junior professional golfer, seems dedicated to flipping that notion on its head.
An eighteen-year-old Griggs, with his membership in the American Junior Golf Association (AJGA), has been putting his passion for the sport into raising money for those in need.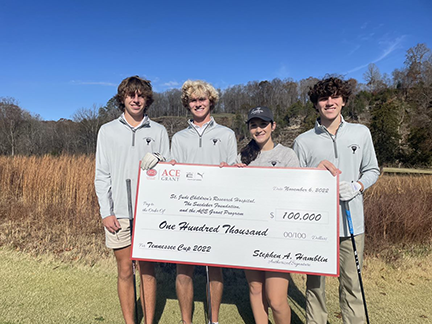 Having found his love for golf when he was just twelve, Griggs has spent his teenage years as a golfer swinging for philanthropy.
"You know, it just feels great to do things like this," Griggs said. "To use my privilege and skill to help others less fortunate than I am, whether they like golf or not."
Like many across the world, Griggs' life was turned on its head during the COVID-19 outbreak and quarantine. When his brick-and-mortar school was closed, he enrolled in the George Washington University Online High School (GWUOHS) and surprisingly, Griggs began to thrive in that online environment.
"I was suddenly able to schedule my own life with GWUOHS," said Griggs. "I had time to attend class really early in the morning, go to work, practice, and socialize during the day; and then get all of my class work done at night. It's part of the reason I've been so successful raising money."
Griggs' membership with the AJGA has led him to participating in numerous golf tournaments and workshops and raising thousands of dollars for multiple charities, the most prominent being St. Jude's Children's Research Hospital, The Snedeker Foundation, and the ACE Grant Program for which Griggs has personally raised $25,000 out of a $325,000 total from the Tennessee Cup.
"He's been with us for four years, all of his highschool career, and I can't imagine him stopping after he graduates," said Bobby Puchner, AJGA Director of Development. "He's a great kid who's raised so much for people who need it and I've worked with him for just about all of it. I'm excited to see what he can do when given even more opportunities."
Griggs' work has fostered a love of philanthropy that he wants to pursue as he goes off to college. He's currently committed to Sewanee, The University of the South to continue his golf career but he plans on taking courses to further explore the avenues of philanthropy.
"I know for a fact I want to continue fundraising and philanthropy," Griggs said. "It's something I've learned to love while with the AJGA. I'm not too sure about where that can take me in the future, but I'm sure that I'll find somewhere where I can make a living helping the less fortunate because I know that there are people out there who are probably just as, if not more talented than me in golf and in general, who just don't have the same opportunities I have. I'd like to dedicate myself to giving them some."