By Ashley Benkarski
WASHINGTON, DC — Ray Smith, Jr. turns obstacles into opportunities to help others.
When diabetes left him blind he was devastated yet steadfast in his faith, though he'd lost his job and house.
"In losing sight I gained a lot of other things," Smith remarked. "I asked the Lord standing in my home … how I could serve Him as a blind man. The Lord asked, "'Do you trust me?'"
Resolving his commitment, he moved to Blind Industries of Maryland for a year, learning to adapt to a world shaped for people with sight.
"'You've lost your physical sight but you have My vision,'" Smith said the Lord told him. "I still dream in color and my whole world is black right now. Every day I wake up I'm waking up to darkness, but the light is relationships."
He hasn't seen anyone physically since 2007 but has found the blessing of remaining humorous and keeping joy in his heart. "[The Lord] did not give me the spirit of fear," he remarked. "It's a loss and you go through different grievances: anger, depression, the feeling of discrimination."
Though he uses audible technology Smith relies on memorization, cardinal directions and the vibrations and sounds from his cane to walk in this world.
In a test of bravery he learned to walk on a six-lane Baltimore highway by listening for the tires on cars—not motors—and the timing of traffic lights.
"I did the first part right but on my way back got somehow turned around," he laughed. God told him to take his hat off and he felt the sun's heat, following it to get back to the school.
Asked where he'd been, Smith laughingly admitted he didn't know.
"I'm a problem solver, and I solved the problem," he said, noting his experiences helped empower him.
In 2011 he started working with Maryland National Parks and Planning Commission along with the Sports and Recreation Division where he was offered employment as an inclusion specialist. He has since left to focus on his health.
Maryland's lieutenant governor asked Smith to assist Prince George's County Department of Aging and became commissioner for the county's Department of Disabilities.
As a coach in the 90s Smith started the Youth Trac Foundation and the Blue Devils of Montgomery County AAU Basketball Team with the help of Coach Robert E. Jackson. His employer, law firm O'Melveny & Meyers, became mentors and tutors. Smith and Jackson prepared these young men spiritually and academically, with 98 percent of participants attending college on full scholarships.
"That went well because a lot of players became pros in the NBA and NFL," he states proudly.
Smith has advocated for nutritional awareness, noting lack of access to healthy food options can lead to serious problems, including obesity and diabetes—health issues disproportionately affecting Black communities couched in food deserts.
Smith and Pastor Willie Duvall formed the Ecumenical Health Council to provide spiritual foundational perspectives in the concept of Healthy Eating Active Living (H.E.A.L.), advocating for healthier options to combat obesity including building farms and gardens and a Children's Guild to give youth a voice.
A leader for Reid Temple AME's Bridges Ministry, Smith supports the disabled community and sings in the men's choir with over 200 other Black men.
Years ago Smith fell severely ill, coding three times in the hospital due to a heart blockage. The third time his wife, Nia, put her hand over his heart and prayed to God, starting with Isaiah 4:11. "God restored me," he said.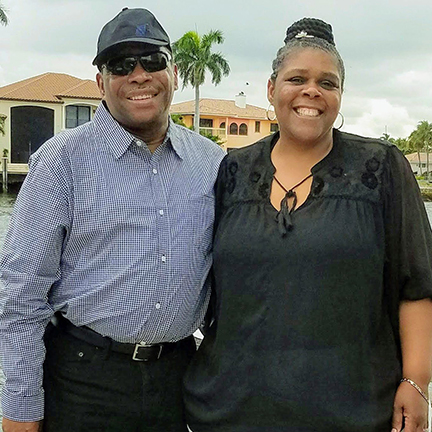 Nia and Ray's story is a beautiful testament to the power of love—the day he met her, he knew she'd be his wife.
"The Lord led me to her and I know there's no mistake about it," he said. "The joy of the Lord is definitely our strength."
Smith's traveled nationally advocating for the underserved and creating awareness about discrimination against the differently-abled community, citing litigation against the Department of Justice for noncompliance and Goodwill for skirting labor laws by paying employees well below minimum wage.
He spoke to legislators about changing the concept of what it means to have a disability, starting with language like 'handicapped,' which he said is limited. The better descriptive term is 'persons with different abilities,' a concept that engenders the spectrum of individuals in the community rather than marginalizing them.
These stories underscore an often-overlooked point: It's crucial to be aware of laws and hold organizations accountable when gross mismanagement occurs.
"Until something happens where you need resources, you won't realize the disparity," he said.
Smith faced many of his dad's challenges, namely being a Black man in a white man's world. And like his father, Ray's faith, hard work and goodwill helped him break barriers. William T. Coleman, Equity Partner for O'Melveny & Myers and the fourth Secretary of Transportation (1975-77) gave him great advice: "Whenever you walk away from your desk, make sure you put your sportcoat on because you never know who you'll run into in the office." It so happened it was former Secretary of State Colin Powell.
Smith is a man with no shortage of inspiration who speaks with firm conviction of his truth. "Faith is the substance of things hoped for and the evidence of things not seen," he said.