By Clare Bratten 
NASHVILLE, TN — April 13th was Record Store Day and The Groove, an East Nashville store dealing in new and used vinyl LPs celebrated the day with a bash. Nine live bands (broadcast live by Acme Radio), food trucks, and a crowd kept the party going from 9 am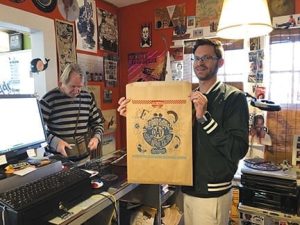 to 9 pm, ending in a dance party. The Groove, located at 1103 Calvin Avenue, is one of several stores focusing on older audio formats with a large collection of vinyl LPs and 45 rpm vinyl, tapes, CDs, alternative comic books, and some audio equipment.  
"Vinyl has definitely seen a resurgence," said Michael Combs who is co-owner with Jesse Cartwright. "Each year it just keeps growing – you keep seeing articles about how vinyl is back, vinyl sales are up. But it's also not just younger generations. My Mom sent me an article from the AARP [American Association of Retired Persons] where it said the Baby Boomers are also getting back into vinyl.  Everyone is enjoying vinyl."
"April 13th was Record Store Day and we went from 9 am to 9 pm that day. We had exclusive records, we had a free concert," said Combs. The event featured bands Future Thieves, Blank Range, Erin Rae, The Gripsweats, Tennessee Muscle Candy, Camm, Luthi, The Dip, GrizFolk, and Ft. Lockeland Strings.  
"We had Bonaparte's Retreat here which is Emmy Lou Harris's Dog Rescue Organization and Second Harvest Food Bank was here as well," Combs said. The non-profits (Second Harvest and Bonaparte's Retreat) walked away with the proceeds from a silent auction at the event.
"We raised almost $1,000 to benefit both those charities," said Combs.  Sponsors included labCanna (billed as a hemp and CBD industry with rock and roll roots) and We Go (Metro Public Transit)  and Do615 were other sponsors of the event. 
"We had Lucky Diamond here who makes a local vinyl cleaner product. Stacy Blood invented the product, he lives in Dickson TN, so it's a local product. He's passionate about vinyl. It's the only cleaner that we carry."
"We sell [stereo] needles, stylus, some cartridges, vinyl, CDs, cassettes, turn tables cassettes, we have 'Wake Up' comics – curated alternative small indie press comics, (not like Superman, or X Men). We also sell prints by a local artist named Theresa K. She took awesome pictures of rock stars like Annie Lennox, Joan Jett, Cindi Lauper back in the 70s and 80s. We're a local small business and we want to support local people as well," said Combs.