By Vivian Shipe
KNOXVILLE, TN — The location has changed, the strong and loyal leadership has not.
In early October the CAC East office opened on Asheville Highway with a grand opening of it's new location, Director Albert Nelson greeted people with a humble and proud smile.
From his early days in transportation, he has been with the CAC in many positions for over 46 years. His dedication to the inner city and East Knoxville community is known far and
wide and has never wavered. Nor has his reputation of integrity. He holds high standards and expectations of the young people who enter his doors as they park their cellphones and learn about respect along with the other many services provided for them.
He spoke of the vision for the center and thanked many before a crowded room of local and state dignitaries before overseeing tours and a wonderful reception of the new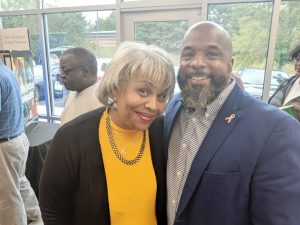 facility.
His original plan after attending Knoxville College and the University of Tennessee Knoxville was to be an attorney, but he found his purpose as a servant of the people and never looked back. Nelson believes relationship matters and the community working together will rise together.
Under his guidance he and his dedicated staff have started many projects at the East Center that are now main stays of the community. Among them is a successful tutoring program that for over a decade has trained hundreds of children in social and leadership skills.
The Steps for Success program is another success story; where a family in crisis can receive the needed resources allowing their children to stay in school. The center has worked to help people save their homes, prevent evictions and even stop utilities from being shut off. 
His role model and greatest supporter was his mother, Liz Nelson, who told him to stay humble and help others. She taught him about circumstances and outcomes. He took those lessons learned and strives for positive outcomes for all who enter the center. 
"I am a better person because of the work I do," says Director Nelson. "I have reaped many benefits in life from helping others."