By Logan Langlois
NASHVILLE, TN — After over a decade of delivering locally famous BBQ to his fans all around Nashville, Shon Slim, owner and operator of the Smoqe Signals BBQ, has announced the impending retirement of the food truck that has supported him in cultivating a dedicated customer base after one last summer of barbecuing.
"This is my final summer on my food truck, it's going away after this summer." Said Slim with a heavy breath. "So, anybody that's ever enjoyed my food truck, this'll be the first time I've ever really announced this publicly."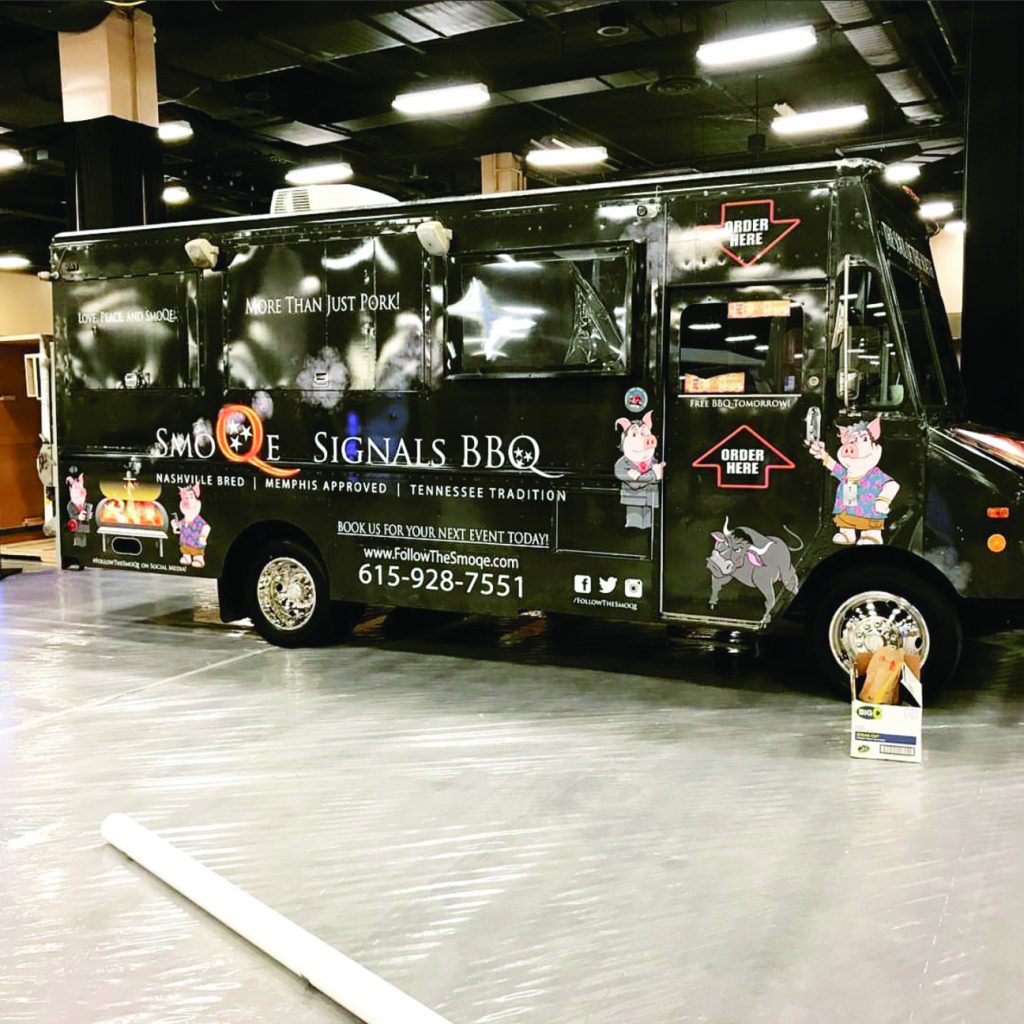 The truck's retirement after this summer isn't a sad one however, as it is being done to make way for Slim's new hospitality company set to be located in north Nashville, named 1410 Hospitality. His business will be opening its doors within the same walls as the former L&P Silkscreen Co., 1410 Buchanan St, Nashville, the address of which is where the name of his newest venture is derived from.
Thankfully, the closing of the Smoqe Signals food truck isn't the closing of the Smoqe Signals brand entirely. Immediately after announcing the truck's retirement, Slim was also sure to elaborate that Smoqe Signals barbecue will still be served within the new hospitality establishment. The truck will remain gone, but Slim projects that fans will once again be able to sink their teeth into their favorite bit of smokey goodness again in the Fall of 2025.
During his announcement, Slim recalled the days when he first found himself barbecuing, and how Smoqe Signals itself got its start.
"Actually, it was by accident," said Slim. "I didn't have any plans to own a food truck, I didn't have plans to go into the culinary business."
He further detailed that as a "hobby," he used to be a regular nightclub promoter, and would invite people over to his house for a "pregame" before heading over to the club. It was during this time he would first begin serving his barbecue and began steadily building a fanbase who couldn't get enough of his ribs.
It was after having this pre-established following that Slim decided to begin selling his food on weekends until the business gained enough traction for him to work it full-time.
"I had to embrace it because I had a big following before I actually decided to do barbeque, so it'd be kinda stupid if I didn't," said Slim. "My grandad was a barbeque man. A couple of my uncles are barbeque guys, it was just kinda in my blood."
He went on to examine with some humor that despite being a bar-b-que-centered business, one of the most popular items on his menu is locally- renowned wings. They are so well renowned in fact, that after the closing of the Smoqe Signals food truck, he plans on continuing to sell his wings under a completely different brand, separate from the Smoqe Signals food that will be made available under 1410 Hospitality's roof. Even he himself succumbs to his wings admitting that, "my honey hot lemon pepper wings, I'm addicted to 'em. Even when I'm not hungry, I gotta have a couple of 'em 'cause they're like candy to me."
Smoqe Signals is available to follow on Instagram and Facebook under @smoqesignalsbbq as well as their website www.smoqesignals.com, 1410 Hospitality is also available to follow on Instagram under @project14ten.