By Vivian Shipe
KNOXVILLE, TN — By July 1st, Big Brothers and Big Sisters of East Tennessee hopes to have 150 new mentors for its program. The next few months there will be Bowling for Kids Sake  events held in cities all over East Tennessee with a goal of raising 150K . Vivian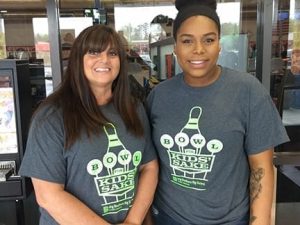 Gwinn, Community Engagement Director explained that for 37 years  the organization has worked in partnership with the community members of East Tennessee to provide life changing friendships for children.
Children matched with a mentor are more likely to finish high school,  stay out of serious trouble, and grow up to be effective leaders. The attention paid to these children thru monthly connections provides support and encouragement
that is measurable. In 2018, 91percent maintained or improved their educational performance and 87 percent maintained or improved their relationship with parents and others.
Each bowling team is asked to raise 250.00 To sponsor a team or to to help raise the 150k needed to reach the goal of 150 mentors,   please contact Kristy Dubose at KDubose@tennesseebig.org.