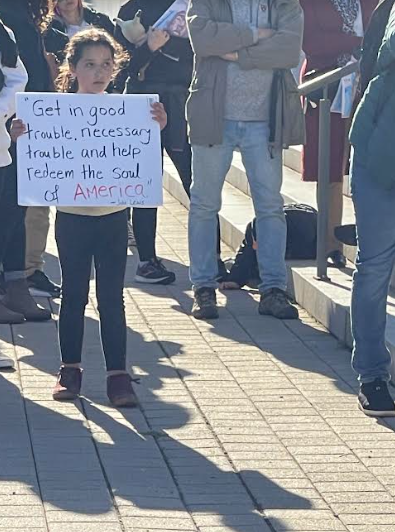 Nashville, Tenn. (TN Tribune)–A group of young Tennesseans are speaking out against a bill put forth by Republican lawmakers in the state that would rename a section of Rep. John Lewis Way to President Trump Boulevard.
Safiyah Suara, a high school student and daughter of Metro Councilwoman Zulfat Suara, organized a rally to raise awareness about the proposed legislation and show young people that they have the power to make a difference. The event took place today at 3:00 p.m. in the Metro Courthouse Public Square Park.
Safiyah hopes that the rally will continue the legacy of John Lewis, who fought for racial equality and was also a student in Nashville, while also drawing attention to other bills that could affect the community, such as those related to the community oversight board, metro council reduction, and refusal of Federal Education Funding for schools.
State Representative Paul Sherrell and State Senator Frank Niceley, who was involved in a controversy last year for a perceived anti-Semitic comment, brought the bill before the council earlier this month saying they only want to change a small section of the road.
Businesses like the Nashville Municipal Auditorium, the Metropolitan Government of Nashville & Davidson County, and the Cordell Hull building will have to change their addresses if this bill is signed into law.
Lewis, who was a leader in the 1960s civil rights movement before becoming a highly-respected congressman, went to college at Nashville's American Baptist College and led sit-ins to desegregate lunch counters at stores on the street now named for him.
Safiyah Suara hosted a Youth Rally to protest the bill Saturday in conjunction with the John Lewis March Committee.
The committee says the name change undermines the message of Congressman Lewis and is an attempt to erase the work of black civil rights icons. Several council members played a roll back in 2021 in helping rename the street. The rally intentions around preserving the naming was proclaimed just three years ago.
There is a petition opposing the bill that has already gathered nearly 10,000 signatures.
ABOUT REP JOHN LEWIS
John Lewis was born on February 21, 1940 outside of Troy, Alabama. He grew up on his family's farm and attended segregated public schools in Pike County, Alabama. He holds a Bachelor of Arts Degree in Religion and Philosophy from Fisk University; and he is a graduate of the American Baptist Theological Seminary in Nashville, Tennessee. At an early age, John Lewis developed an unwavering commitment to the Civil Rights Movement. For more than forty years, he has been in the vanguard of progressive social movements and the human rights struggles in the United States. As a student, John Lewis organized sit-in demonstrations at segregated lunch counters in Nashville, Tennessee. Despite his youth, John Lewis became a recognized leader in the Civil Rights Movement. By 1963, he was recognized as one of the "Big Six" leaders of the Civil Rights Movement. Elected to Congress in 1986, Lewis represented Georgia's Fifth Congressional District. He served nine terms before dying in 2020. Lewis left behind his wife and their son, John Miles Lewis.