By Alexis Clark
NASHVILLE, TN (TSU News Service) —  Over 100 TSU graduate and undergraduate students presented their groundbreaking research during the Tennessee State University 45th Annual University-Wide Research Symposium. With cash prizes ranging from $50-250, students delivered thought-provoking insights on a wide range of research topics, including the use of essential oils on strawberries, and analyzing estrogen receptor response to breast cancer cells.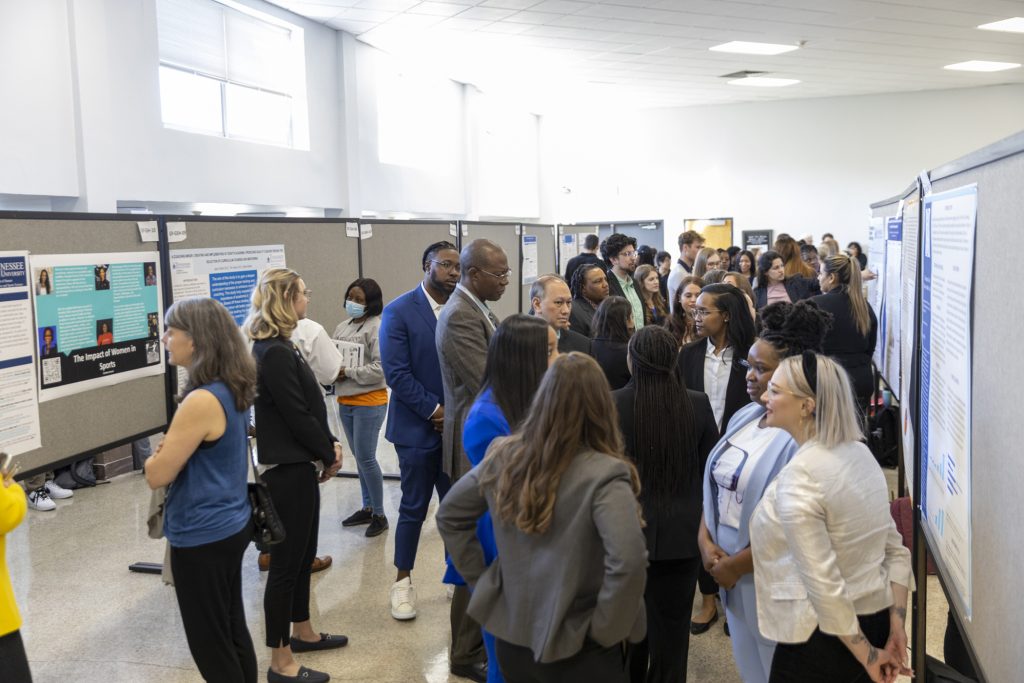 The symposium, which is largely composed of presentations from the science, engineering, business, and humanities disciplines, was a week-long event sponsored by TSU's Division of Research and Sponsored Programs. The symposium featured research and studies conducted by faculty, graduate, and undergraduate students. There were over 20 oral and poster presentation winners placing in first, second and third during the symposium award ceremony.
"The research symposium continues to be a cornerstone for showcasing Tennessee State University's student and faculty research talent," said Associate Vice President of Research and Sponsored Programs Dr. Quincy Quick.
"The Division of Research and Sponsored Programs is always excited and overjoyed to support and sponsor this annual event across the university and look forward to the novel and innovative contributions presented."
Students were judged on originality, organization, presentation, knowledge and overall.
Pallavi Rathore, a second-year masters student studying plant sciences, won 1st place for poster presentation in the "graduate agriculture," interdisciplinary category.
"It was really nice winning an award," Rathore of India, said. "It was a boost of confidence, and the first award I've ever won at the University." Rathore research was a study on root system architecture traits, with the goal bringing new plants into the world to fight climate change. Rathore said she looks forward to receiving her PhD after graduation, studying plant molecular biology.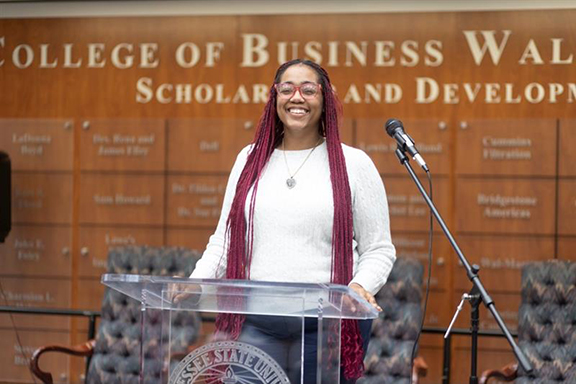 This year's symposium theme is "Ascending to New Heights," something that Anarra Williams did as she achieved a new level of success by winning first place for the undergraduate oral presentation interdisciplinary category.
Williams is a senior from Ohio, studying food and nutritional science with a minor in English. Her research was related to 'reversing the entrepreneurial curse: Assessing issues faced as a self-employed juicing business owner.'
Williams owns her own juicing business, "A Dose of Wholesomeness."
During the award ceremony, Williams was shocked about winning first place within her category. "As a senior, it is good to know they were interested enough to present me with first place … I am lost for words," she said. "You never know where these competitions will take you." Williams will be attending Virginia Tech for her master's to pursue a career as a food chemist.
Keynote speaker for the closing event was TSU alumna Dr. Maria Thompson, who is the former president of Coppin State University and previously served as the vice president of Research and Sponsored Program at TSU. Thompson gave a heartfelt speech about how she started her research as a freshman at TSU, not knowing its longevity within her professional career.
"Research can be a foundation for your career, but also an approach to your whole life," Thompson said.
Thompson expressed how proud she is of the students and their research.
"The whole world is before them," Thompson told the University. "Once they have their foundational education and their research experience here at Tennessee State University, there is no door they can't open, there is no experience they can't create."
Thompson was then awarded a gift on behave of the Research and Sponsored Program, presented by the program's chair, Reginald Cannon. Cannon noted that the 45th Research Symposium is a chance to bring the internal research community together. "It is excellence to showcase how well our students are doing."
See the full list of participants for the symposium at www.tnstate.edu/researchsymposium/. For more information on research at TSU visit the research and sponsored program page at www.tnstate.edu/research-1/.