By Vivian Shipe
KNOXVILLE, TN — There are feeding projects all over the world.
From the coffers and kitchens of the United States flow millions of dollars and meals to remote lands, yet some of the most hungry of all live in these United States of America: one of the richest countries in the world.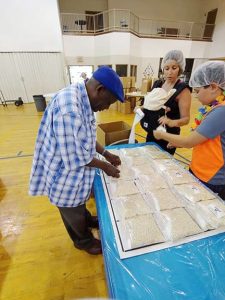 The United States Department of Agriculture reports that 12.3 percent of Americans are termed food insecure. That means that 1 in 8 households had trouble during the year feeding their household. Many of these families having to choose to eat or pay bills or buy medicine.
Tennessee is recognized as a poverty state, tying with Missouri as the 41st most food insecure state in the nation.
On the local level in Knoxville, Tennessee, that translated in to a need for action on the hearts of Carol Waldo, Deni Kidd and host of churches and organizations. One Saturday, June 1st, 300 volunteers from around the city along with Operation Inasmuch, Knoxville International, Invest, West Lonsdale Baptist Church, and Center for English; packed and boxed 45,000 meal boxes. It was the first time it had been tried; it was a great success.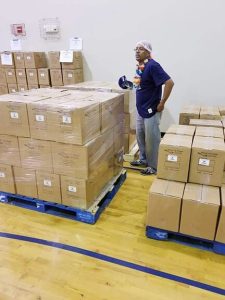 West Lonsdale Church volunteered its gym and a huge production line was formed. With detailed precision, every package was lovingly weighed and prepared. After preparing the food and  packing the boxes, the food was delivered to six churches, various outreach programs, and food pantries all thru out Knoxville that feed the poor. Those who serve the refugees of the city, even those like Thrive Knoxville;  who serve the children who used to get backpacks of food from school to take home to be able to eat over the weekend received food for the children they serve.
Even the refugees who came to help serve; many only in the country for less than a month received food to take with them. For them it was a way to give back and serve with dignity as they received. The food will be filling; Apple cinnamon oatmeal, spaghetti
with noodles, mac and cheese, all hearty meals, went to the hungry of the city. Each box held 30 packets, every packet will feed five. Each one prepared to last on the shelf a long time.
Deni Kidd one of the coordinators shared her thoughts. "People are really hungry. We have to start where we are to help each other".
45,000 meals is a good start.