By Cillea Houghton
NASHVILLE, TN — Warner Arts Magnet Elementary School has received $10,000 worth of school supplies from Amazon. The donation came as a surprise to students and teachers, who gathered on the front lawn of the school as three Amazon Prime trucks pulled up carrying boxes filled with iPads, Kindles, Lego sets, art supplies, bean bag chairs and more.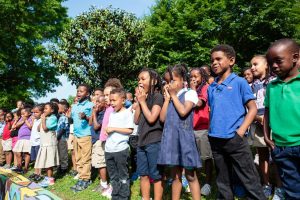 Warner Arts Principal Ricki Gibbs II received an email from a representative at Amazon a week before the supplies arrived informing him that the school had been selected for the $10,000 donation. The email instructed Gibbs to "dream big," and he selected products that would most benefit the students. "When someone tells you to dream big you know that they really want to fit your needs," Gibbs said. "This is huge for our boys and girls, this is huge for our school."
Each item serves a purpose for the students, the Lego sets teaching skills such as building and connecting while the bean bag chairs will enable independent reading time. Gibbs also ordered chairs for the teachers' lab where they'll host meetings with parents. "It's that direct connection of students, teachers, parents and that's what the whole donation was about," Gibbs said. "It just gives more boys and girls access, and that's our biggest thing when we talk about equity and access. We can put equitable practices in place, and now this donation helps us further the access part."
"It's wonderful to see the impact we can have in a community, particularly with investing in the teachers and helping make them more successful and giving them the resources to have the students finish out for a strong year," adds James Shively, regional director for Amazon Logistics.
Warner Arts Literacy Teacher and Development Specialist Jessica Rueckert and English Language Teacher Kerry Lindstrom agreed that the students will gain a vast range of skills with the new supplies. Rueckert said that many of the students don't have regular access to technology, but now having a one-to-one device ration in the classroom will enhance their understanding of the curriculum. Lindstrom adds that the Legos support STEAM learning, allowing teachers to bring hands-on materials into their lessons. "Being an arts magnet school, it'll be really nice to be able to create makers' spaces and things where the kids can have that creative outlet where they can tie what they're learning into something more creative," Rueckert said.
Another benefit of the donation is that it alleviates the burden of teachers having to use their own money to pay for supplies. For Angela Moore, a teacher at Warner Arts Elementary for 27 years, the new supplies enables students to have the same resources as their peers at other schools.  "Sometimes we feel that we're overlooked and they think about our test scores more than they think about the kids, so this is a great appreciation," she said. "To be able to have the tools that we need to teach and to have enough for every child to use is going to be what we needed and what other schools have, and now we have that opportunity too."
Murrell School also received a donation of $10,000 worth of school supplies from Amazon.