By Clint Confehr
NASHVILLE, TN — Operation HOPE, a non-profit organization partnering with First Tennessee, teaches financial literacy at HOPE Inside offices and a recent class had an effect.
Mary Camp of LaVergne had "many" credit card offers but didn't want to hurt her credit score, she said. "Now, learning from the instructor, I think I am going to get a credit card." She qualified for a home loan, but didn't buy.
The interest rate seemed high to her.
"You can make your credit score go up," said Ken Dejarnette, Operation HOPE's workshop leader. Limiting one credit card's use to 30 percent of its limit, and getting another for a low, recurring bill can increase a credit score and therefore mortgage rates.
Founded by John Hope Bryant, Operation HOPE offers money management workshops. Bryant is a financial inclusion and empowerment expert.
"People are broke because of math," Dejarnette said. "Food is a big problem for budgets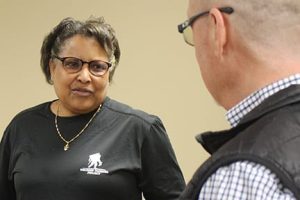 because we eat everyday." Post a grocery list on the refrigerator; follow it and shop only once a week. See if brandname product coupons lower prices to store-brand prices.
Spicing his lesson with tales about trusting a daughter with credit cards, Dejarnette said some talk radio shows on money advocate paying by cash only, but that can lower your credit score, increase mortgage rates, and car loan costs.
Landlords want tenants with income 2.5-times the rent, he said. People usually need income of $2,500 per month to get a $1,000 apartment. Landlords don't want tenants to buy homes, so their required credit score is low. Landlords don't report non-payment of rent to credit bureaus, but cable TV companies do.
"Get a picture of the house you want to buy and put it on your refrigerator door," Dejarnette said.
Of the 17 years Dejarnette worked for banks, 13 were with First Tennessee, he said. Bank officers asked him to be a financial well-being coach for Operation HOPE. "Banks may not have time to do a budget for you," he said. "Let's do a budget. I don't share your information with anyone."
Operation HOPE's founder was American Banker magazine's 2016 "Innovator of the Year." John Hope Bryant's been one of Time magazine's "50 Leaders for the Future." His 2017 book, "The Memo," offers five rules for economic liberation. In 2014, he published "How the Poor Can Save Capitalism: Rebuilding the Path to the Middle Class."
Dejarnette's office is in First Tennessee's Inglewood branch. Contact Michael Morrow at (615) 268-9053 or michael.morrow@operationhope.org to attend a workshop. Other training is available. Charles D. Hill, an entrepreneur training graduate, established Atina Labs in Memphis. His goal is to make Atina Labs a leader in the substance abuse screening industry in the Mid-South.