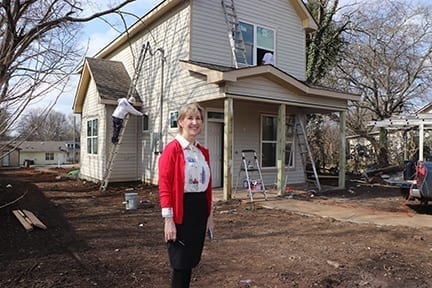 Part 4 of a 4-part series on Affordable Housing
and Development in North Nashville
By Peter White
NASHVILLE, TN — "I deal with probably 90% of the non-profits. They're all good to work for. I've never had problems with any of them," said Jeff Stromatt. 
Stromatt and his crew are putting the finishing touches on a three bedroom two-bath house they started building around Christmas. It has already been sold and the first-time homeowner is anxious to move in. Stromatt been building below-market-rate single-family homes for 20 years.
"I've probably done 300," he says. They raised the roof a bit and put all the HVAC in between the floors instead of the crawl space beneath the house on 11 Avenue N. They used a concrete siding called HardiePlank instead of vinyl. It won't warp because it's waterproof. Little touches make the build cost about $110/sq. ft. but the home will get an energy star rating and have lower utility bills.
New Level, the developer, is a Community Development Corporation (CDC) created by the Mount Zion Baptist Church. Kay Bowers is the Executive Director. She says housing costs have two main factors: the price of land and the building costs. If New Level gets a lot from the city that helps keep the price down but they still have to pay to clear the title. Construction costs have steadily risen in Nashville and labor is sometimes scarce. 
The house on 11th Ave N is appraised for $300,000 (see photo #1). It will sell for $150,000. Stromatt could be making a lot more. "I enjoy doing this the most to help people get their feet on the ground," he said.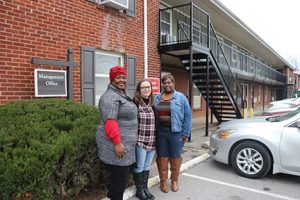 Stromatt said the way New Level works is the same as the other half dozen non-profit builders in town. "Somebody with 80% of the medium area income will take out a mortgage for $150,000 and there is a second mortgage with Metro for the other $150,000 that is forgiven over 20 years. 
"After that the owner can do whatever they want with it," Stromatt said. 
"During the recession and shortly thereafter investors with deep pockets came in and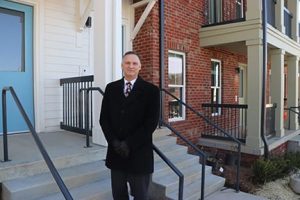 bought up properties in vulnerable neighborhoods. They just bought them up because they had cash in hand. They are ahead in the game but we are non-profits and we have to raise it," said Bowers.
She said they save on costs with multi-family projects because there are economies of scale when you build 10 or more condos together. "We do that very very well and we would obviously sell it or rent it below market rate because that's our mission," said Bowers. 
Market-rate builders have their costs and their investors' expectations for about an 18-20% return. Getting the best price they can for a property determines the selling price. 
"You have to have public subsidy to bring down the sticker price to create a mortgage that's affordable," Bowers said. She said non-profits can't compete with for-profit builders because the playing field isn't level and she is always playing catch-up. Meanwhile, older neighborhoods are being shredded, families torn apart, and that has become the new normal in North Nashville.
"Nashville doesn't have basic best-practice tools in the toolbox to help preserve affordability where people want to live, where their roots are, and where they want to remain. Until the decision-makers feel that it's in their interest to get behind better efforts to do good planning with the proper resources we will continue to struggle and our communities will suffer," Bowers said.
Habitat on the Edge of Town
Danny Herron knows how the real estate game is played. He says he never got hugs when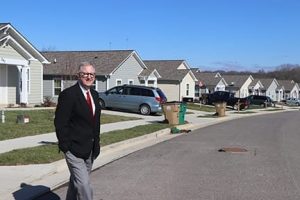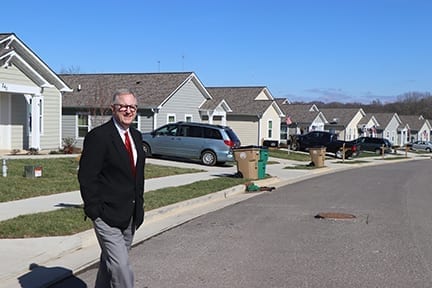 he was a banker but now he gets plenty of them. Nashville's Habitat for Humanity is building an entire subdivision in the White's Creek area out by the UPS facility off Briley Parkway. It's called Park Preserve an it's for low to moderate income residents who work in Nashville.
"Every family here goes through an application process with a background check and credit check," Herron said. First-time home-buyers have to put in 80 hours of classroom time to learn about budgeting money. 
Habitat has already built 225 houses in Park Preserve and will build 75 more. Herron said their mortgages are very different from a conventional mortgage because they are zero percent interest loans. 
"Our families have to qualify to buy the house and afford it with no interest but spend 100 hours out here building a neighbor's house. So there's sweat equity involved and that's one of the reasons we have a very low foreclosure rate of less than 3%. That's good. We're proud of those good numbers," he said.  
Herron really likes the Habitat model that allows families to build equity for the first time in their lives. Payments are really low—about $800 a month. That's an affordable home you are buying over 30 years and wind up owning.
"It's a very successful program but it's not a handout, it's a hand up," Herron said. Everybody gets involved on weekends to give their neighbor an opportunity to improve their life and own their own home.
Herron won't say this to just anybody but sometimes he thinks we need another big recession. When the housing bubble burst in 2006, Habitat was in a good position to snap up foreclosures for 20 cents on the dollar just like other investors did. Habitat bought an entire subdivision in Antioch. It was only half-built when the developer went bankrupt, so Habitat finished it and added 130 homes to their inventory of 800 houses. 
Affordable Rents in Town
Mark Wright runs Be a Helping Hand Foundation. He builds rental housing for seniors and disabled residents under a federal Housing and Urban Development (HUD) program.  
"We focus on large families with women-led households," Wright said.  Wright's properties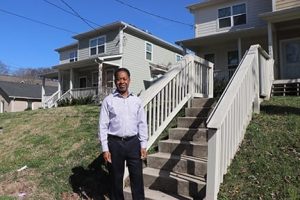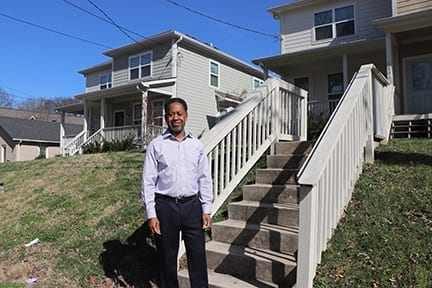 have 4-5 bedrooms that rent for about $700 a month. "Our turnover is almost zero," Wright said. Their two newest of 36 properties were built in 2015 and the foundation is currently developing 6 new parcels. 
Wright gets land with help from the Barnes Fund and goes fishing for grants to build on the lots. "We could do more with more money," he said.
"We can't compete with the developers coming in. They are buying up property at market rates and closing within a couple of weeks. We can't do that. Our funds are tied to a grant. There's a process. If we had an open fund that would give us access to funding to be able to close quicker, then we would be on a level playing field with the developers," he said.
Wright said Metro, MDHA, and the Barnes Fund are doing a good job and Helping Hand has done a lot with their help. "We just need a lot more of it. A lot of people are waiting for us to do more," he said.
What could he do with $100 million?  "I could build quite a lot if that type of money was available," he said.
Rusty Lawrence runs Urban Housing Solutions. He's got a finger in just about every available pie that funds affordable rental housing in Nashville. The property he is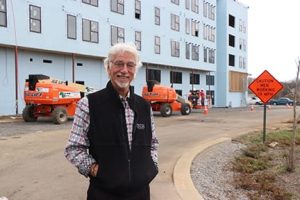 developing on Clarksville Highway is for low income renters. Twenty-three units are built, 63 more are being built, and there will be another 55 units for seniors. They will all have Section 8 vouchers which they will get from MDHA to subsidize the rent. Like MDHA rentals, none of Urban Housing Solutions' tenants are cost-burdened, meaning they don't pay more than 30% of their income for rent. The units cost about $150,000 a piece to build and Lawrence says the total build cost will be between $15-$20 million.
With a $40 million housing fund, which the city council was considering last month but then tabled, Lawrence could double the number of units he's building now.
                                                       ***
This article was written with the support of a journalism fellowship from the Gerontological Society of America, Journalists Network on Generations and The Commonwealth Fund.
Here is a list of Non-Profit Builders Interviewed for this article:
Be a Helping Hand Foundation
827 W. McKennie Ave 615-227-6000
Affordable Housing Resources
50 Vantage Way 615-251-0025
Woodbine Community Organization
643 Spence Lane 615-833-9580
15th Avenue Baptist Church
1203 9th Avenue N. 615-256-4326
New Level
1112 Jefferson St. 615-627-0347
Urban Housing Solutions
822 Woodland St. 615-726-2696
Habitat for Humanity
414 Harding Place 615-942-1218
The following facilities have HUD-subsidized apartments 
for elderly and disabled residents of Davidson County
WEDGEWOOD TOWERS APARTMENTS
1195 WEDGEWOOD AVE NASHVILLE, TN 37203-5440 
(615)269-3464
TREVECCA TOWERS I AND EAST
60 Lester Ave. NASHVILLE, TN 37210-4209 
Phone: 615-244-6911 
TREVECCA TOWERS II
84 Lester Ave Nashville, TN 37210-4211 
Phone: 615-244-6911 
DANDRIDGE TOWERS
431 OCALA DR NASHVILLE, TN 37211-6300 
Phone: 615-832-2951  
DISCIPLES VILLAGE NASHVILLE
2112 Buena Vista Pike Nashville, TN 37218-2840 
Phone: (615) 726-1740  
FIFTEENTH AVENUE BAPTIST VILLAGE MANOR
1015 Scovel St Nashville, TN 37208-2580 
Phone: (615) 880-1110  
CHIPPINGTON TOWERS
94 Berkley Dr Madison, TN 37115-5230 
Phone: 615-868-7751  
CUMBERLAND VIEW TOWERS
1201 CHEYENNE BLVD MADISON, TN 37115-5592 
Phone: (615)868-8653  
RIVERWOOD TOWER APARTMENTS
621 N DUPONT AVE MADISON, TN 37115-3261 
Phone: (615)865-2221
HEARTLAND CHRISTIAN TOWER
3027 Fernbrook Ln Nashville, TN 37214-1671  
614) 451-2151
HICKORY HOLLOW TOWERS
100 CURTIS HOLLOW RD ANTIOCH, TN 37013-2152 
(615) 731-5252
NASHVILLE VOA LIVING CENTERS
209 Claudia Drive OLD HICKORY, TN 37138-3317 
Phone: (615) 217-3055 
OLD HICKORY TOWERS
930 INDUSTRIAL RD OLD HICKORY, TN 37138-3644
Phone: (615) 847-3474 
SPRUCE STREET GOLDEN MANOR
521 Spruce Street Nashville, TN 37203
615-320-3217