GULU, Uganda — Over two years, from 2015 to 2017, Castro Odur, 68, lost three of his five children to Nodding syndrome. This mysterious ailment has plagued villages in rural northern Uganda since early 2000.
"There is nothing worse than losing three children in a row to the same condition because you are unable to afford medical care for them," Oduor, a farmer from Labworomor village, Labongo-Akwang sub-county, northern Uganda, told Zenger News.
He said his children — a girl and two boys — contracted the disease in 2003. They were debilitated due to malnutrition-related complications.
Nodding syndrome is a neurological condition whose cause is unknown.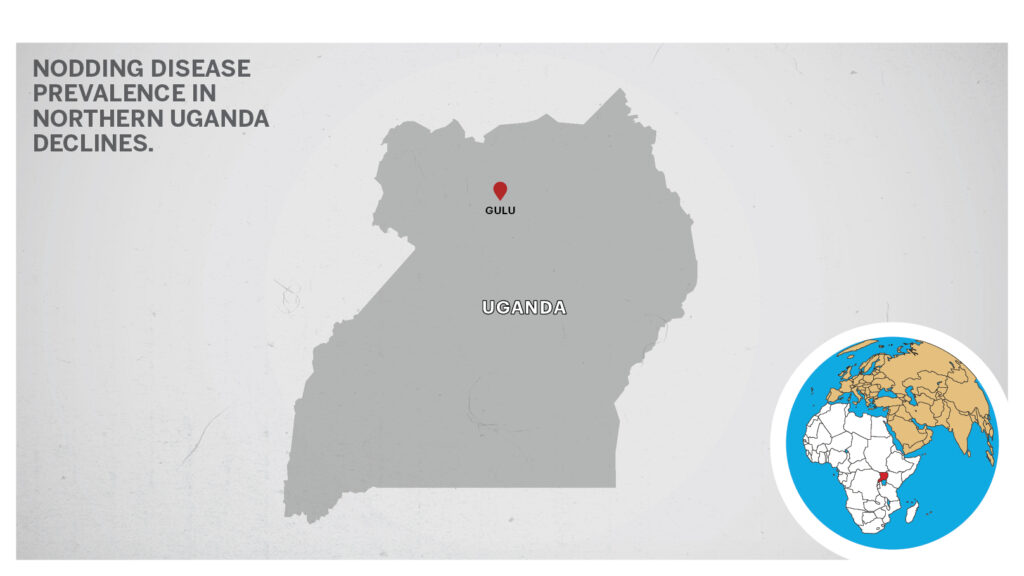 The condition affects children between 5-15 years, causing progressive cognitive dysfunction, neurological deterioration, stunted growth, and a characteristic nodding of the head, according to the Centers for Disease Control and Prevention.
No definitive cause of the disease has been found. Still, research suggests that black flies play a role in transmitting an agent that directly or indirectly causes the Nodding syndrome and other forms of epilepsy in rural parts of northern Uganda, South Sudan, and Tanzania near rivers.
In northern Uganda, the Nodding disease and epilepsy epidemic started around 2000, but new cases declined since 2008, and none has been recorded since 2015.
The disease deformed Michael Odur's two boys in 2005. Unfortunately, one of them passed away in 2019, aged 23, after 15 years of suffering.
"My son died after a harrowing experience. The one who is still alive, now aged 23, is also in great pain," Odur, 54, a farmer from Labworomor village, told Zenger News.
Eric Ogware, 22, was the latest victim of the mysterious disease in Tumangu parish.
His body was found by a herdsman in April 2021, in a village stream where he had gone to bathe before he suffered seizures, about two kilometers (1.2 miles) away from home.
"Such patients are challenging to monitor and care for," Benson Ocan, 26, the deceased's brother, told Zenger News.
"Our last born, who is 15 years old, also has the same condition. In the absence of a full-time caregiver, the family members of the patients are often tired and stressed. That's why many families tie them to trees using ropes or lock them up in houses to prevent them from loitering to their deaths."
Joe Otto, the Nodding syndrome point man for Labongo Akwang sub-county, said at least 123 households in the region are caring for family members with the condition.
Eleven patients died within the sub-county since 2019 due to malnutrition-related complications, got burned to death in fires at home, or drowned after wandering away, he said.
A care center constructed a cost of Sh150 million ($42,514) in 2016 by Hope For Humans, a charity organization founded by an American doctor in 2012 to treat the affected children, closed down in 2017 due to funding issues.
"The center closed before it could admit any of the patients," Otto told Zenger News.
The organization constructed a similar therapeutic center in Odek sub-county, Omoro district, where affected children from Acholi and Lango subregions received medical treatment, healthy nutrition, clean water, and supportive social services. It also closed in 2017.
"The sudden closure of the treatment center was the worst thing to happen to us and our children," Harriet Anena, 28, a resident of Teolam village in Odek sub-county, told Zenger News.
"They were safer and well cared for at the facility."
Her sister and brother are affected by the disease.
Suzanne Gazda, a neurologist from San Antonio, Texas, United States, who was the sole funder of the facilities, ended her engagement with the district center due to funding shortage, said local officials.
"The charity handed over the center to the district authorities to continue managing it, but that was also short-lived due to lack of funds," Douglas Peter Okello Okao, the Omoro district local government chairperson, told Zenger News.
Okao, who doubles as the Nodding Syndrome Task Force chairperson, said the center would run up Sh80 million ($22,674) in monthly expenses.
"In the 2018/2019 financial year, the central government, through the Ministry of Health, provided Sh700 million only ($198,401) in assistance, but it was just a drop in the ocean."
Omoro district health officer Robert Ongom said 13 children have died since the center closed, while several girls have been sexually abused.
"The district is monitoring conditions of the patients through routine outreach programs to supply them with anti-seizure tablets," he told Zenger News.
Currently, 77 children are suffering from the condition in the district, he said.
"We are overwhelmed by demands from affected families to reopen the treatment center, but our hands are tied because of the limited resources."
The Minister of Health, Jane Ruth Aceng, said the government's intervention on Nodding syndrome commenced in 2012 by establishing an inter-ministerial committee coordinated by the prime minister's office under the Department of Relief, Disaster Preparedness and Refugees.
A total of 2,143 cases of the disease have been reported between 2017 and 2017, according to the Ministry of Health.
"From our statistics and reports from the districts, no new case of Nodding syndrome has been reported since the commencement of interventions in 2012," Aceng told Zenger News.
"Cases that have been reported as Nodding syndrome turned out to be epilepsy and sometimes febrile convulsions."
The death toll from the disease stands at 137 so far, she said.
"The common causes of deaths are infections following severe burns, severe malnutrition, choking following continuous seizures and drowning when left unattended."
Aceng said a total of Sh1,851,891,500 ($525,361) had been transferred to the six districts of Kitgum, Lamwo, Gulu, Pader, Amuru, and Oyam, including two regional referrals hospitals of Gulu and Lira for the management of the disease.
The Minister for Northern Uganda, Grace Kwiyocwiny, said districts burdened by the disease should draw plans to deal with the ailment in their respective annual budgets to guide the central government to act appropriately.
The prime minister's office distributed iron sheets to households with sick children in May 2021 through the Ministry of Northern Uganda.
(Edited by Kipchumba Some and Anindita Ghosh. Map by Urvashi Makwana)
The post Burden Of Caring For Nodding Syndrome Patients Take Toll On Families In Northern Uganda appeared first on Zenger News.