By Vivian Shipe
KNOXVILLE, TN — It was a cold  overcast Saturday afternoon, but many trunk and treat events were being held around the city. One special one in particular was held in the inner city of Knoxville in the Burlington District.
Co-hosted by Dr. Dasha Lundy and Community Leader and Businessman David Rico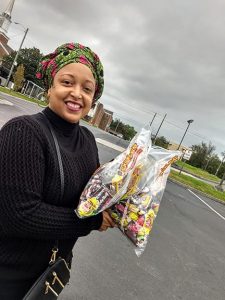 Gillette; the first annual Burlington DUE Something Trunk and Treat event drew over 300 children and many families from around the city to this historic area of the city which is being revitalized. Members from around the city also dropped off candy for this very different kind of trunk and treat.
This trunk and treat was different in that a major sponsor, Sherri Williams held different contests for the children to participate in and win prizes.  Ms. Williams is an evangelist, local recording artist, and Executive Director of Sols Writing Center. Her grand prize to the child who won the freeze tag game was a Windows Ten Dell Desktop system complete with printer.
The event is part of a dream of David Gillette who wants to see this event and others grow to build unity in the neighborhoods and serve all the children in the Burlington Area.
Mr..Gillette said, "Things get solved when you get involved. Community Matters".