By Clint Confehr
NASHVILLE, TN — Four civil rights groups say Davidson County's criminal court is violating state and federal laws when keeping cash bond money for defendants' court bills.
People arrested on, for example, misdemeanor domestic violence, theft, trespassing or traffic charges who deposit cash to get out of jail must agree their fees, costs and restitution can be paid from cash bond.
It's a "corrupt" garnishment, the civil rights groups say. Bond is to make defendants go to court, not pay bills. All of the money is supposed to be refunded when a case is over.
"Our courts are supposed to be a place where people find justice, not a shakedown," says Dawn Deaner, executive director of the Choosing Justice Initiative."Money infects our legal system and creates disparities between the haves and the have-nots."
Two court officials won't comment on the substance of the allegations. Apparently, responses are coming.
Metro's court practice is an unconstitutional taking of money without due process "from families of people who can least afford it while doing nothing to promote justice, improve court appearances or ensure public safety," says Hedy Weinberg, executive director of the American Civil Liberties Union of Tennessee.
ACLU-TN, American Civil Liberties Union Foundation, Civil Rights Corps and Choosing Justice Initiative sent letters about all this to metro council members, Law Department Director Jon Cooper, metro Executive Director Mike Jameson, Criminal Court Clerk Howard Gentry, and Judges Cheryl Blackburn, Monte Watkins, Angelita Dalton, Jennifer Smith, Mark Fishburn and Steve Dozier on Sept. 27.
Three months earlier, Dozier said more time was needed to deal with the Nashville Community Bail Fund, according to Trial Court Administrator Tim Townsend.
The Community Bail Fund deposits cash for indigent people's release. An exemption from garnishment for the Bail Fund ended Sept. 30.
Now, the civil rights groups want: garnishment ended for everyone; an accounting of the money starting in 2016; and information on how the garnishment rule was established and when.
Townsend doesn't know how or when it started, he said. He's been a court administrator for nine years.
Cash bond is something parents deposit to get children out of jail. People who post cash bond don't need a bail bondsmen who charges for services, and retrieves defendants who fail to appear in court as required. That's a concern expressed by criminal justice officials.
"Ninety four percent" of Community Bail Fund participants return to court, Fund Manager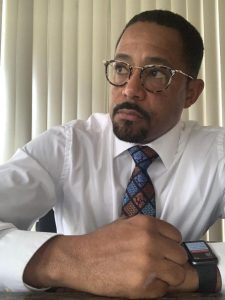 Rahim Buford says. Bail businesses don't have a total return rate. Subtracting costs, fees and restitution from cash bonds could consume the bail fund. It uses refunded money for other defendants. Since 2016, nearly 1,000 people who couldn't afford bail got out of jail because of the Community Bail Fund so they wouldn't lose their jobs or suffer other consequences of pretrial incarceration.
It's not the first such group; 5-7 years ago Marian Ott of Nashville was volunteering for an organization started years earlier by people who were dismayed by a system favoring bondsmen. "I went to bail out a friend's child and thought I would just have to sign something and prove I had the $10,000 in the bank. No. The girl would have spent the night in jail because, while bonds can be gotten at any time of day, the judge has to approve personal guarantees. Plus all her court fines and restitution would have come out of my money, but not the bond. So, the system is rigged for the bondsmen even for those with the means."
Ott is president of the League of Women Voters in Tennessee.
The bail fund founder, Martin Shallenberger Brown Sr., "knew people with wealth are treated differently," Buford says of the former chairman and CEO of Jack Daniel's. He died Aug 10.
"Our organizations stand ready to engage with (Metro officials) in a proactive, solutions-oriented approach," the ACLU said. Short of that, they're ready to argue about it in court.
State Attorney General Herbert Slattery has replied saying he doesn't have documents sought by the civil rights groups, Deaner said Tuesday.
Criminal Court Clerk Howard Gentry says officials were meeting on this last week, adding, "It could be a lawsuit."
Deaner wouldn't say where the complaint would be filed.