By Clint Confehr
NASHVILLE, TN — Metro council voted recently to proceed toward allowing a grease and oil disposal business to relocate in Councilman DeCosta Hasting's district.
"This is environmental racism at its worst," neighborhood coalition member Mary Carver Patrick said, alleging state investigators found violations of environmental regulations at the current liquid solid waste disposal site.
Dozens of Hasting's District 2 constituents spoke against letting Onsite Environmental, 1421 Baptist World Center Drive, previously known as Combs Industrial Service, move to 2832 Whites Creek Pike.
Onsite has "plans for a non-hazardous liquid waste processing facility" to continue disposal of restaurant grease and petroleum-polluted water from car washes, according to Tom White, attorney for Onsite.
Hastings said, "If the community is not for it, I'm not for it," but he called for a vote for the measure, partly to continue the process toward other votes which could defeat it. Hastings said residents could take a field trip to see a similar operation in Chattanooga.
Judge Nick Leonardo, a former District 1 councilman, advocated city adoption of Tennessee Jackson Law so Metro has authority to judge landfill requests against criteria to measure compliance with environmental and quality of life standards regarding odor, noise, traffic, economic impact, community health and welfare.
Officials noted that since the public hearing was held, a 30-day period starts for decisions on those criteria. Several council members asked for more information from city staffers. They said if council denies the request for waste processing at 2832 Whites Creek Pike, the applicant can appeal to chancery court.
White said the Jackson Law applies to solid waste. Onsite Environmental processes liquid wastes.
Council voted 21 yes, 12 no, and three abstentions. Three council members didn't vote on Onsite Environmental's request for approval of its moving plans.
Council also voted to proceed with two other controversial matters.
Plans for a major league soccer stadium at the state fairgrounds are described in proposed laws dealing with: demolition of buildings and structures used for the flea market, garden show, and other activities at the fairgrounds; a tax on soccer match tickets; rezoning of land for new uses of the 10 acres; and a declaration of the land as surplus so it can be sold.
Fairground vendors advocate Shane Smiley says the council has "the cart before the horse" by voting on the surplus declaration process which must start with the fairgrounds board. Since they're mayoral appointees, he anticipates cooperation by the board, but his group says it has a better idea.
Build the soccer stadium at Metro Center, Smiley said. That will be a "super economic boost for North Nashville," and it's cheaper to develop there. Ten advantages are listed in a flier from the vendors.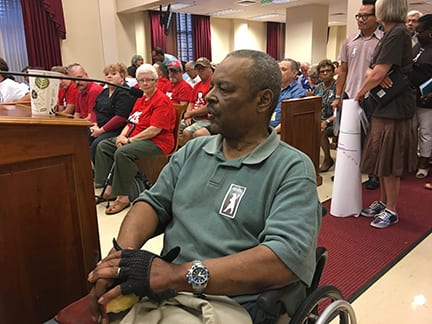 Also Tuesday, council held a long public hearing for a proposal to conserve the appearance of homes on 43 acres in Edgehill with guidelines for homes in the residential zone.
Many of the points for and against such government control (or protection depending on individuals' opinion) which were made during the council hearing, were also made at the planning commission hearing.
A roll call vote revealed 28 yes votes, five no, two abstentions and four council members who did not vote.
See tntribune.com and The Tennessee Tribune's Facebook page for reports on Edgehill and announcements from StandUp Nashville, a group of activists who want a Community Benefits Agreement forged between the soccer stadium developers and a third party to ensure jobs, worker safety, good wages and other benefits for Davidson County residents if the stadium is built.