By Sandra Long Weaver
ROBBEN ISLAND, SOUTH AFRICA —Touring the infamous Robben Island prison on Feb. 11, the 29th anniversary of Nelson Mandela walking the long road to freedom after his 27-year imprisonment was chilling. We didn't plan to be there on that day but it certainly made our two-week trip very special.
My husband and I were hoping there would be a special celebration during our tour on the island but the celebrations took place at Victor Verster Prison where Mandela spent the last few years before he was finally freed. He spent 18 years at Robben Island, followed by time at Pollsmoor Prison and finally Victor Verster.
Still, to tour the island where he was once incarcerated made the day very special. We watched coverage of the celebrations on television later that day.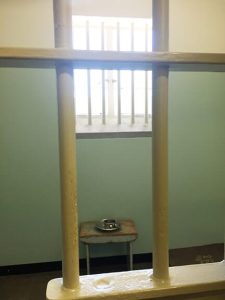 Mandela was jailed for his political beliefs and his efforts to end South African apartheid, a racist system of discrimination severely limiting the rights of people of color. Whites, the country's minority, were totally free.
Mandela was the first democratically elected president in 1994 and is revered throughout the country. There are numerous statues of him and his face is on most denominations of the rand, country's paper money.
His life on Robben Island was very hard, according to our tour guide who once was a prisoner there himself, also jailed for his political activism. He was forced to break rocks every day. And the sun's reflection on those rocks had a negative impact on his vision causing him to have surgery later in life.
Our guide walked us through the building where he was forced to live in a tiny cell with hardly any amenities. The guide even showed us the pallets they had to use to sleep on the cement floors and a chart illustrating the food that was given to the prisoners. The people of color were fed a diet that was barely enough to stave off hunger while whites were given a more balanced menu.
We also toured the island which can only be reached by ferry. We saw buildings that had been constructed by prisoners and one where a political prisoner was forced to live in isolation for more than a decade.
A week later, we were in Soweto, visiting the former home of Nelson and Winnie Mandela, now a museum. We also visited the Apartheid Museum, a very sobering experience.
At the house, which is in the heart of the community, you can still see the bullet holes over the doorway. The house is filled with original furniture and awards and plaques given to both of them during their lives.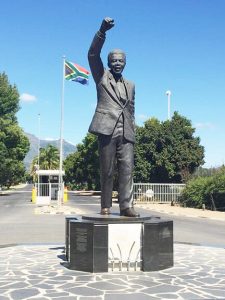 The experience at the museum included being labeled as white or non-white and going through separate doors to enter. It was explained that a panel of white men would determine whether you were white, colored or Black under the Apartheid rules. The privileges you had were determined by your race classification.
The museum included the story of Mandela's life and exhibits about life under apartheid. There were also exhibits about the reparations hearings which were held to help the healing after the racist system was ended.
We had an escorted tour of the country from Feb. 8 to Feb. 22 through Gate1 Travel Agency. We traveled from Capetown to Johannesburg and then to Swaziland (now eSwatini) and to Victoria Falls in Zimbabwe.