FRANKLIN, TN — Habitat for Humanity Williamson-Maury's largest fundraising event, "Hammers & High Heels," is set to take place on Saturday, June 1st at the Franklin Marriott Cool Springs (700 Cool Springs Blvd in Franklin, TN) from 6:30PM -11:00PM CST.   The Silent Auction is now ONLINE, open to the public and ready for bids.  You do not need to be present at the event to shop, bid and win!   The auction will close at 8:15pm (estimated) on June 1st.   Visit the event site to register now:  www.hfhwm.cbo.io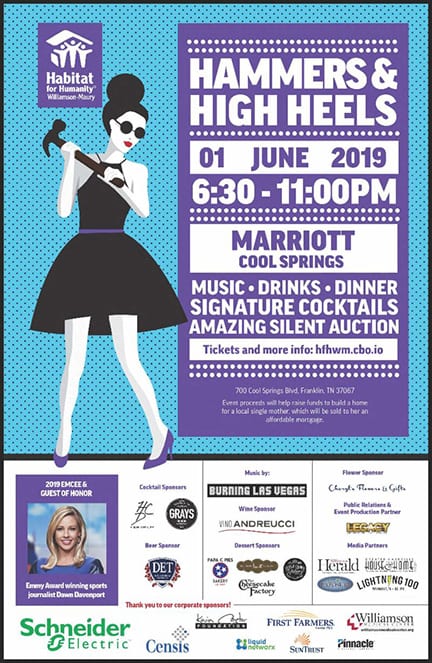 The festive event will be emceed by Dawn Davenport, Emmy award-winning sports broadcaster and co-host of the 3HL radio show on 104.5 The Zone. The fundraiser will feature an incredible LIVE and silent auction featuring trips, unique memorabilia, items from Franklin's finest retailers, and much more.
Guests will start the night off with hand-crafted cocktails provided from Gray's on Main, featuring H. Clark Distillery's small-batched Tennessee Bourbon and Dry Gin. They will enjoy fine Italian wines from Vino Andreucci and beer selections from DET Distributing. After a plated dinner, attendees will be treated to a variety of desserts from the Cheesecake Factory, Nothing Bundt Cakes, Papa C Pies, and Triple Crown Bakery. Later the popular, high-energy party band, "Burning Las Vegas," will take the stage to provide an audio-visual dance party that spans all genres, decades, and ages.
Habitat for Humanity's Women Build program empowers women to take the hammer and take the lead to help local families in need build and purchase safe, affordable housing. Hammers & High Heels, is HFHWM's largest fundraiser, bringing 350+ people together to raise the $70,000 needed for the "bricks and sticks" of this home. Habitat for Humanity has built 235 homes in Williamson and Maury Counties and continues to build 14-18 new homes per year.
This year's future homeowner is single mother Maria Herrera. Maria works two jobs while caring for her 72-year-old mother Estella and her son Abraham. Over the next few months, Maria will complete 280 hours of "sweat equity," saving $2,000 in closing costs, and will then be eligible to purchase her house with an affordable mortgage.
There are a few tickets remaining for the event at www.hfhwm.cbo.io for $100 per ticket. Tables are $1,000, seat eight, and ensure that groups of multiple guests can be seated together. All admissions include three drink tickets each. Visit www.HFHwm.org for more information about the event or Habitat's work in Williamson and Maury Counties.
Special thanks to our top sponsors Schneider Electric, Censis, First Farmers Bank, Williamson Medical Center, The Kevin Carter Foundation, Liquid Networx, SunTrust Bank and Pinnacle Bank.
For more information about our homeownership program, volunteering, or sponsorship opportunities, please visit www.hfhwm.org.