By Wiley Henry
MEMPHIS, TN – Kinyah Bean Braddock is "young, gifted and black," an anthem of sort that songstress Nina Simone and others brought to America's consciousness some 50 years ago. 
At the ripe age of 11, Kinyah is loaded with youthful exuberance and imbued with an entrepreneurial spirit that reflect the meaning of Simone's inspiring message of empowerment and self-confidence.
Kinyah is indeed empowered and confident in her role as proprietor of B Chill Lemonade, LLC., a small business first created the night of Jan. 16, 2017, when the budding entrepreneur was merely eight years old.
She's also empowered and confident in her role as author of "Chillin My Way to Success!" "It's about kid entrepreneurs and how I started my company, B Chill Lemonade," she said. "It's about creating a blueprint to inspire my generation to explore entrepreneurship and to become entrepreneurs."
"Chillin My Way to Success!" was published by Noah's Art in California and released Feb. 24, 2018.
Motivation to launch such a business enterprise began earlier when Kinyah's doting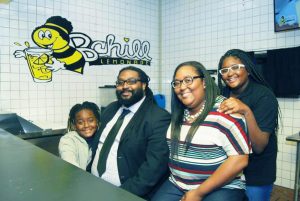 parents, Demetrius and Valerie Braddock, seized the opportunity to tap into their daughter's creative mind and her propensity to flesh out an idea. 
"At the age of six, my dad challenged me to be an entrepreneur. I took the challenge and ran with it," said Kinyah, a six-grader learning the rudiments of operating a small business. Her mother also home-schools her.
Kinyah has since become a bona fide entrepreneur who is rather mature for her age. "It's great being an entrepreneur," she said, "because it opens up so many doors that you won't go through if you weren't."
On Nov. 1, during a ribbon-cutting ceremony, maturity was on display when Kinyah introduced herself and the 18 products and eight flavors that she offers at B Chill Lemonade in Hickory Ridge Mall's food court. The store first opened in April. 
"During the ribbon cutting, we let the public test the lemonade," said Kinyah, touting the various flavors, including original, coconut, peach, mango, blueberry, strawberry, pineapple, raspberry. Diet lemonade is also on tap.
"Kinyah is the youngest certified business owner and entrepreneur in the state of Tennessee and the youngest [member] of the Greater Memphis Chamber," Demetrius Braddock said. 
The Braddocks are Kinyah's pillars of support. They keep her grounded and lifted up. He is the chief financial officer of B Chill Lemonade. She is the chief executive officer. It's a family business. Even seven-year-old Demetrius Braddock II has a stake in the business.
"I manage the company and make sure everybody is on track," he said. "I take care of the employees."
Employees? It's all hands on deck. Everybody works to some degree. "This is no cookie-cutter," said Demetrius Braddock, who teaches personal finance and business management at Memphis School of Excellence High.
Valerie Braddock once studied law in Mississippi. She taught school as well in Nashville and Memphis and resigned in April to open the store in Hickory Ridge Mall. Now she works full-time with and for her daughter. 
"I handle day-do-day operations," she said. "I handle brand development and look for opportunities. I'm the driver, shopper and banker. Most of all, I'm the mother."
"We work hard so we can play hard," Demetrius Braddock said. "And we pray every day."
They pray incessantly and try to strike a balance between being Kinyah's parents and working for her at the store. 
"She knows we are her parents. [And] she's a very respectful kid," Valerie Braddock said.
"It's difficult for a father to have a child that is an entrepreneur," her father added. "Now I'm following her directions. She gives us the vision and we have to figure out how to make it happen."
Kinyah says she can do this forever. "My ultimate goal is to have my lemonade on all seven continents. That's the plan," she said. "I want it to be a point where my company can run without me."
With so much on Kinyah's plate, she still finds time to give back. With Edward Bogard of BOGARD Footwear & Apparel, she has designed a shoe that pays homage to breast cancer survivors.
The deep pink tennis shoe with half of a stylized bee on each side is marketed through BOGARD's non-profit called "SoGiv." 
"When you put your feet together, it creates a bee that shows unity," Kinyah said. She also sells pink lemonade to create awareness.
Kinyah is indeed young, gifted and black – and on her way to success. She is exactly what Simone alluded to in that awe-inspiring anthem.