NASHVILLE, TN — In preparation for the annual Literary Luncheon sponsored by Les Gemmes.  The signature program, "Lighting the Path for Girls," focused on etiquette at its latest workshop.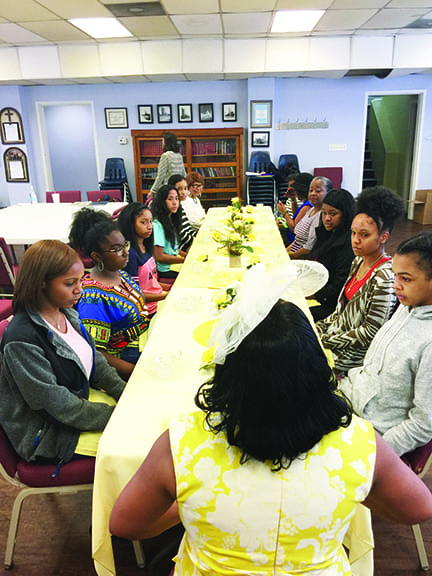 "We want to expose our 'Jewels' to all aspects of life so they are prepared for success. Proper etiquette is a major part of that perspective," said Rene' Whittaker, chair of the Lighting the Path for Girls Committee. The Jewels sampled dishes far from hamburgers and fries. Among their delicacies were smoked salmon and caviar.
They also had serious conversations, to learn how to discuss important issues in a formal setting.  The students talked about safety at schools and in their communities.  Pastor Howard Jones led that discussion with the students.
"This workshop was a great opportunity to learn social graces said, Keyle Bryant. It gets us ready for our annual luncheon."
The Literary Luncheon will be held this Saturday, March 10 at 11 a.m. at the Airport Marriott.
Dr. Jessie Carney Smith, Rev. Chestina Archibald and former Congressman Bob Clement are the featured speakers, who will sign their books at the event.
Vendor booths will be on site with wares for various items. They include: Patricia Duncan, Rev.  Robin Kimbrough, Dr. Carolyn Baldwin Tucker,  Charelle Lans, Robyn Gordon, Tristan Buckner and  Alkebu-Lan Images.