NASHVILLE, TN — Calling on lawmakers to guarantee healthcare and a healthy environment for all, 20 people including the poor, clergy and advocates were arrested the state capitol building Monday as the Tennessee Poor People's Campaign: A National Call for Moral Revival intensified during its fourth straight week of nonviolent direct action. The action in Tennessee was part of a wave of protests hitting 35 state capitals and Washington, D.C.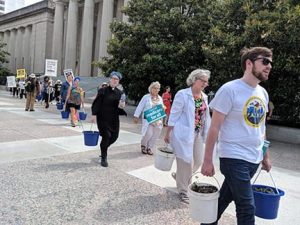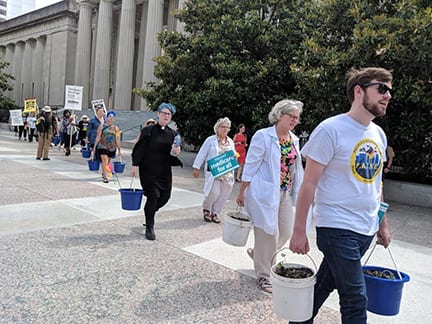 Monday's protest highlighted how environmental issues like pollution and climate change disproportionately affect people living in poverty. Earlier today moral witnesses reclaimed land on the Tennessee State Capitol lawn to create a People's Garden highlighting the ecological devastation of our planet and the need for healthy food, water, and air for healthy communities. They later proceeded to the Governor's Office to speak to the Governor. He and his constituency services staff refused to speak to them. They were later arrested outside of the Governor's Office.
 Tennessee PPC tri-chair Beth Foster said, "…our legislature is denying poor and working class Tennesseans the right to see a doctor when they are sick, where our environment is destroyed to enrich corporations, and where poor people struggle to maintain access to something as basic as water."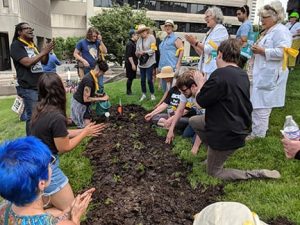 The action in Tennessee is one of dozens nationwide. In Tennessee the campaign is organized by the poor and dispossessed, clergy and those who care about justice from across the state, from Chattanooga to Memphis, in cooperation with Mercy Junction Peace and Justice Center in Chattanooga, Union Auto Workers UAW 737, No Exceptions Prison Collective, Veterans for Peace, Christ Lutheran Church, Christ Church Cathedral, Murfreesboro Unitarian Universalist Fellowship, First Unitarian Universalist Church of Nashville and Greater Unitarian Universalist Congregation of Nashville.
More Week 4 Stories From Around the Country
In Kentucky, Campaign Co-Chair the Rev. Dr. William Barber and hundreds of Kentuckians are on the doorstep of the state's capitol Monday afternoon chanting, "Let us in," after authorities blocked them from entering the building. Police would only let two protesters in the building at any given time, despite the fact that the state constitution guarantees the "right of assembling together in a peaceable manner for their common good."
"Politicians in Kentucky are afraid to hear a true critique of their policies, which rob the poor of the right to healthcare and allow billion-dollar companies to pollute our water and environment, but we will not be silenced by their descent into authoritarianism," said the Rev. Barber.
Kentuckians are protesting against the state's decision to require Medicaid recipients to work or participate in job training or community service in order to keep their healthcare coverage. Kentucky coal miners suffering from black lung and residents affected by contaminated water spoke at the capitol earlier Monday highlighting how billion-dollar companies are polluting the environment and water and harming public health in the state.
"The politicians in Kentucky and across the country who are preying on the sickest and poorest among us by taking away healthcare are guilty of a kind of political murder," said Barber. "The poor are left to get sick, and even die, while politicians use their power to protect billionaires and polluters. We will not remain silent any longer while this deep moral corruption among our political leaders continues to kill the poor and disenfranchised in this country."
 Campaign Co-Chair Leads Detroit, Flint Water Advocates in Blockade of Michigan Department of Environmental Quality
In Michigan Monday afternoon, Poor People's Campaign Co-Chair the Rev. Dr. Liz Theoharis is leading a blockade of the Michigan Department of Environmental Quality, blasting lawmakers over their failure to address the ongoing water crisis in Detroit and Flint. Holding signs reading "Water is a human right," residents of Flint whose water remains poisoned from lead exposure spoke at a rally earlier Monday alongside low-income Detroiters whose water has been shut off because they cannot afford their bills. 
"Politicians in Michigan are committing a grave evil by cutting off and contaminating water – something God created and that all people need to survive – leaving families in Detroit and Flint to suffer," said Theoharis. "There is perhaps no greater proof of the need for a moral revolution in this country than the sinful public health crisis created by elected leaders in this state."
 Ignoring Puerto Rico is Violence
Poor People's Campaign protests also intensified on Capitol Hill Monday as members of heavyweight environmental groups including 350.org, Friends of the Earth, the People's Climate March and the Sierra Club joined the movement to highlight how environmental issues like climate change and pollution disproportionately affect people living in poverty.
"There is no climate justice if the poor are left behind," said May Boeve, executive director of 350.org, a global climate campaign. "Building the fossil free world that works for all of us requires coming together across our differences to demand bold and necessary change. We need a fast and just transition for the poorest and most impacted by climate change and the fossil fuel economy. Together, we will make sure it's fossil fuel billionaires, not our communities, who bear the costs of climate change's destruction."
Before engaging in nonviolent civil disobedience, protesters at the Capitol Monday highlighted the ongoing humanitarian catastrophe in Puerto Rico, where a recent Harvard University Study estimates more than 4,600 people died as a result of Hurricane Maria—many of them from delayed medical care.
"What we are witnessing is the public crucifixion of the Puerto Rican people by the empire," said the Rev. Damarias Whittaker, of Fort Washington Collegiate Church in New York City, whose family in Puerto Rico is still without electricity and who spoke outside the U.S. Capitol. "My aunt, who is diabetic, is rationing her insulin and is unable to refrigerate her medication. Ignoring her and the thousands and thousands like her, is a form of violence."
To spotlight the connection between a healthy environment and a healthy body, more than 1,000 people across 40 states and eight countries who are part of the Franciscan Action Network are fasting Monday in solidarity with the Poor People's Campaign. 
Un: Poverty Getting Worse Under Trump
In 35 state capitals, poor people, clergy and advocates demanded the right to healthcare and a healthy environment for all. The protests Monday come days after U.N. officials sounded the alarm on the Trump administration's efforts to undermine social safety net programs for the poor. On Saturday, Philip Alston, U.N. special rapporteur on extreme poverty, criticized rollbacks to healthcare and welfare benefits in the U.S. over the past year, which aim to "punish those who are not in employment and make even basic health care into a privilege to be earned rather than a right of citizenship," Alston said. He said that under the Trump administration and the current Congress, America's poor are becoming more destitute.
The U.S. spends more per capita on health care than any other country, at approximately $10,348 per person per year, yet there are more than 32 million people who lack health insurance in America, including 4.6 million Black people, 10.2 million Latinx and 13.6 million Whites. And environmental degradation in the U.S. exacerbates the healthcare crisis hurting America's poor the most: at least 4 million families in the U.S. are exposed to high levels of lead from drinking water and other sources, while an estimated 13.8 million U.S. households cannot afford water.
The Unfinished Work of 1968 Poor People's Campaign
Over the past two years, leaders of the Poor People's Campaign: A National Call for Moral Revival have been laying the groundwork for this week's protests. They carried out a listening tour in dozens of states across this nation, meeting with tens of thousands of people from El Paso, Texas to Marks, Mississippi to South Charleston, West Virginia. Led by the Revs. Barber and Theoharis, the campaign has gathered testimonies from hundreds of poor people and listened to their demands for a better society.
A Poor People's Campaign Moral Agenda, announced in April, was drawn from this listening tour, while an audit of America conducted with allied organizations, including the Institute for Policy Studies and the Urban Institute, showed that, in many ways, we are worse off than we were in 1968.
Earlier this year, poor people, clergy and advocates traveled to statehouses all over the country and the U.S. Capitol  to serve notice on lawmakers of the demand that they address the enmeshed evils of systemic racism, poverty, the war economy, ecological devastation and America's distorted national morality. Lawmakers have failed to act, and this spring's six weeks of nonviolent moral fusion direct action is yet another attempt to instruct them on these issues.
The Campaign draws on the unfinished work of the 1968 Poor People's Campaign, reigniting the effort led by civil rights organizations, labor union and tenant unions, farm workers, Native American elders and grassroots organizers to foster a moral revolution of values. Despite real political wins in 1968 and beyond, the original Poor People's Campaign was tragically cut short, both by Dr. King's assassination and by the subversion of the coalition that sustained it. Still, the original vision and many of its followers did not go away.
The Poor People's Campaign: A National Call for Moral is building a broad and deep national moral movement – rooted in the leadership of poor people and reflecting the great moral teachings – to unite our country from the bottom up. Coalitions have formed in 39 states and Washington, D.C. to challenge extremism locally and at the federal level and to demand a moral agenda for the common good.
The Poor People's Campaign: A National Call for Moral Revival is co-organized by Repairers of the Breach, a social justice organization founded by the Rev. Barber; the Kairos Center for Religions, Rights and Social Justice at Union Theological Seminary; and hundreds of local and national grassroots groups across the country.