By Ashley Benkarski
NASHVILLE, TN — Brianna Mason made history June 29 when she was crowned Miss Tennessee 2019 at the University of Tennessee-Knoxville's Thompson-Boling Arena.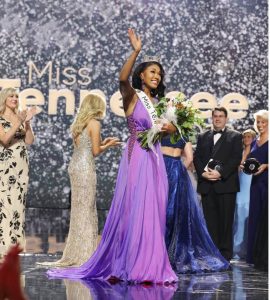 Mason is the first black Miss Tennessee since the pageant's inception in 1938–the better part of a century ago.
"I set this goal for the past four years so to finally accomplish it is very special, but there have been women who have come before me that paved the way and so I think this win is just as much theirs as it is mine," she said.
Black women have been breaking barriers in every arena after generations of being denied opportunities. The lack of representation (and misrepresentation) in the surrounding culture has created a self-fulfilling prophecy for many, leading women and girls of color to internalize a negative perception of themselves. Mason wants to change that.
"Looking back at the winners of the Miss Tennessee crown and when I first started, none of them looked like me–I couldn't find myself in any of those winners," she said. "Although they were talented and beautiful and did great things in their community, I set it upon myself to make sure that people that look like me are represented. It's so important for young girls, especially, to see themselves represented in a positive light."
It's for that reason Mason plans to make representation a theme of her reign as she prepares to compete for the Miss America crown. During school tours she'd like to engage kids, chiefly young girls of color, about her journey to get this message across:
"Be your own history-maker," she advised.
Mason, a Nashville native and 2013 Ravenwood High graduate, attended the University of Tennessee-Knoxville where she received her Bachelor's degree in psychology and her Masters  in elementary education last year. Since then she's been teaching first grade at Hobgood Elementary in Murfreesboro, following in the footsteps of a long line of educators in her family.
"Every day I was validated that I was in the right profession," Mason said of her first year in the position. "I'm the oldest of five children so I've always been kind of like a mother figure and I've always been a nurturing person …  I knew I wanted to work with children."
That passion for caretaking–along with her history-making goal–was a motivator for her foray into pageantry. Mason said she made the decision to compete when she saw the philanthropic platform the Miss America Foundation allows–it's "the largest provider of college scholarships to young women in the U.S.," fundraising millions of dollars through the Miss America Organization's licensed funding groups, the institution said.
Mason will act as state ambassador for Miss America for Kids, the national partnership between the organization and Children's Miracle Network Hospitals. She's raised $6,000 during her years of competition for the hospitals and the organization's scholarship funds and will continue that work throughout her tenure. She also plans to use her platform to amplify the message of inclusivity through her organization Advocates for Autism, a nonprofit she began as a collegiate chapter during her time at UT. 
Mason was crowned by Kellye Cash Sheppard, the only Miss Tennessee titleholder (1986) to be named Miss America (1987). Sheppard was joined in the ceremony by former titleholders Jeni Stephens (1996), Lanna Keck Smith (1997), Beth Hood Fromm (2000) and Caty Davis (2017). Mason received $17,000 in scholarships and a new car from Rusty Wallace Nissan of Knoxville, organizers said.
The Miss Tennessee Scholarship Competition is under new management with CEO Joe Albright at the helm, organizers said. Keck-Smith and Davis serve as Executive Director and Co-Executive Director, respectively. With nearly $80,000 in scholarships given to the 27 candidates, this was the first year the new organization put on the competition and also the first time it was held in Knoxville. 
You can watch Mason compete for the title of Miss America when the pageant airs later this year on NBC.