By Cynthia Anderson
NASHVILLE, TN — Born out of a need to spread knowledge during Black History Month, United Street Tours has emerged as a popular Nashville attraction thanks to interest from local, national and international tourists. 
After being open for just one year, the company has seen business grow and is now adding new walking tours and planning to incorporate a black history bus into the tour experience.
Chakita Patterson started United Street Tours because while working in education, she found there was an information gap among students who had little to no knowledge about black history. 
"At school I interviewed students and asked, 'What do you want to do for Black History Month?' I realized they didn't know much about black history other than Dr. Martin Luther King, Jr.," Patterson said.
She searched for ways to introduce black history to the students without making them feel embarrassed or ashamed because they didn't know the information. She decided to use her experience as an avid traveler and tourist to create a black history tour of downtown Nashville.
"People said there is no black history in downtown Nashville. I said, 'Yes there is. You just have to find it.' It was very fun putting the pieces together and telling the stories of black history in downtown Nashville," Patterson said.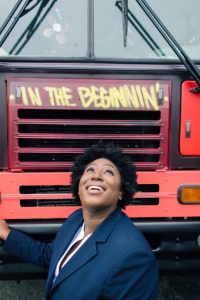 United Street Tours launched the Tour of African American Culture in February 2018. Patterson knew she had a hot commodity on her hands when the tour sold out in three months with its only marketing coming in the form of Facebook posts and Groupon.
The Tour of African American Culture is a 90-minute walking tour of downtown Nashville that includes historic sites such as the Woolworth on 5th. 
With the addition of the new tours, United Street Tours now has three tour experiences. The two new tours are the Civil Rights Movement Tour, which debuted February 1st, and the Black Wall Street Tour, which is available through private bookings.
The Civil Rights Movement Tour is a walking tour that includes stops at locations such as Nashville's Witness Wall, and the Black Wall Street Tour is a walking tour and commentary of historic locations on Jefferson Street including Fisk University.
Patterson has also recently acquired a bus that will be incorporated into the experience in some way, however, details of how the bus will be used aren't being released at this time. 
The bus will be a tribute to black history in North Nashville. It will feature iconic art designed by Norf Art Collective, the organization responsible for many of the murals featuring African Americans in North Nashville and along the Jefferson Street Corridor. Patterson plans to unveil the bus design and details of how it will be used to enhance her black history tour experience in the coming weeks.
In the meantime, Patterson is focused on growing her business by adding a new black history tour in the City of Franklin. She is also continuing her research in Nashville's black community.
"Telling black history is a heavy responsibility to the people who lived these experiences," said Patterson who uses Tennessee State University Professor Learotha Williams Jr., Ph.D. as her sounding board and mentor. "It takes months and months of research on the back end for one story to come together. I do it because people are hungry for this information. They want to fill this information gap and they are using tours to do it."