By Wiley Henry
MEMPHIS, TN — The tragic death of Tyre Nichols at the hands of Memphis police officers provided the impetus for a panel discussion on overzealous policing and accountability on March 30 at the National Civil Rights Museum.
Moderated by MSNBC's Joy Reid, a political analyst, and the host of "The Reid Out," the panelists kicked off the first of a four-part national convening entitled "The Reckoning, The Resolve, The Restoration, and The Resilience."
Panelists Benjamin Crump, RowVaughn and Rodney Wells, Cheryl Dorsey, Congresswoman Sheila Jackson Lee, and Alex S. Vitale addressed "The Reckoning," a focus on community policing and accountability.
"Historically, we've seen victims of violence by law enforcement, not only Rodney King and George Floyd, but here in Memphis – from Larry Payne to Elton Hayes to Tyre Nichols," said NCRM President Dr. Russ Wigginton at the apex of the panel discussion.
"It is a longstanding legacy of abuse and injustice," he said, adding, "We're seeking solutions to ridding society of injustice today."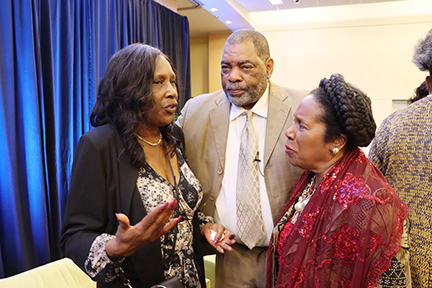 "We can talk about this issue in theory. You have to live it in fact," said Reid, referring to RowVaughn and Rodney Wells, and asked: "What does reform look like to you?"
"Police officers should treat people as equals," said RowVaughn Wells, noting that too many Black and brown people are being murdered by police officers. "I'm not understanding why this keeps happening."
Rodney Wells sees the problem as a lack of accountability. "The police officers, whether they're Black, brown, green or yellow, need to be held accountable for their actions," he said.
He added that too many parents in America are going through the same thing that his family is going through – such as losing a loved one to police violence.
"We don't need immunity for officers when they're doing something wrong," Rodney Wells said.
A grand jury indicted the five Black officers on multiple charges in the death of Tyre Nichols, including second degree murder. The MPD responded swiftly and fired the officers.
"That tells us that there is something deeply and systemically wrong," Reid said. "It's not just about hiring more Black officers."
Vitale recalled the police-involved shooting death of 18-year-old Michael Brown in Ferguson, Mo., in 2014 as a point of reference.
"We've tried a lot of things," he said. "Those officers…a lot of them had body cameras. They've had the diversity hiring. They've had the special training."
It hasn't made a difference, said Vitale, a noted professor who spent more than 30 years writing about policing and consulting police departments and human rights organizations internationally.
Is there a certain militarization of police departments, even though more Black officers are among the ranks?
"Certainly, there's a militarization of police departments," said Dorsey, a retired Los Angeles Police Department sergeant, author, and human rights activist. "There are 18,000 police departments across the country, and they move and act similarly."
The job is not for everybody, she said. "I can take race out of it. These officers were drunk with power…It's important and imperative that they are held accountable."
Even though the MPD moved quickly to hold the officers accountable in Tyre Nichols' death, Dorsey said, "[Memphis Police Chief] C.J. Davis gets no brownie points from me."
Crump is often referred to as "Black America's attorney general." As the legal counsel for the Wells family, he said, "We understand policing in America. It started out as the slave patrol. Not much has changed."
He said his office is inundated with calls about police brutality. "The police just beat Black and brown people every day," he said.
Reid queried Vitale about monetary settlements and whether the spotlight on savage beatings by the police changes anything.
Vitale, however, lauded Crump and other attorneys for "getting the details, exposing the lies, and shinning a bright light" on police misconduct.
"The sad reality is that monetary settlements do not produce the kind of changes that we hope they would," he said, and turned a critical eye to the mayor's office.
"The mayor of Memphis [Jim Strickland] does not have a real plan to address the violence," Vitale opined.
Since politics was addressed at this juncture in the discussion, Reid turned to Lee, the Texas congresswoman who co-sponsored the George Floyd Justice in Policing Act of 2021.
"When is America going to be able to openingly [sic]…be able to confront just the simple premise of fairness?" said Lee, and highlighted a few provisions in the reform bill, such as data collection and money for training.
"The whole issue is the [political] climate. We're frozen in time," she said. "Because of the climate, what will happen politically? Who will rise up?"
The reform bill passed in the Democratic-controlled House that year but was opposed by the Republicans in the Senate.
"We need to push for it to be passed out of the Senate," said Lee, whose party is now in the minority. "I will say conspicuously, the challenges are immense."