By Logan Langlois
NASHVILLE, TN — Celebrating crowds flocked to Juneteenth615's event at Fort Negley Park to show that the historical holiday cannot be rained out.
The event was filled with locally Black-owned cuisine served out of parked food trucks, businesses hosted within large vendor tents, and live music playing from the large center stage overlooking an applauding crowd of families. Between each musical performance, as well as often during the accompaniment of the backing band, speakers come up to deliver speeches, history lessons, and pieces of spoken word poetry to commemorate the day that formerly enslaved Americans found out that they had been freed after generations of trauma and abuse.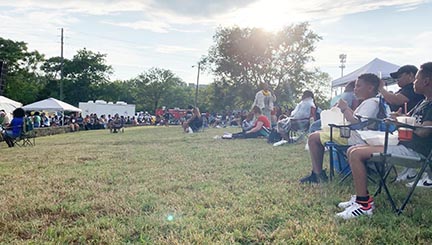 One such poet, civil war reenactor Gary Burke, is himself the great-great-grandson of Union soldier Private Peter Bailey who was stationed at Fort Negley during 1864 and 1865. One method that Burke took to honor his great-great-grandfather as those who fought for the Northern army was by dressing in Union garb while reading poetry thankful for the freedom his family found that day and remembering the pain that his ancestors faced while having their human rights stripped away.
"Juneteenth is something that you pray for, a fate a government could not ignore… [T]oday we remember the pain you felt, the delay from freedom you were dealt," he read in front of an attentive crowd.
The family-oriented celebration came in the wake of several elements of disconcerting discourse taking place throughout Tennessee surrounding Juneteenth, including opposition from Franklin Alderman Gabrielle Hanson in sending a letter to Nashville Airport CEO Doug Kreulen criticizing the airport's sponsorship of the holiday, claiming it "only came about during the heat of the (Black Lives Matter) rioting across America."
She was joined in the press by Sullivan County commissioner Joe Carr who voted against Juneteenth becoming a recognized holiday in his county, saying "I just think Juneteenth is a woke holiday and we shouldn't give these people an inch."
Carr would later publish an article claiming Juneteenth has nothing to do with Tennessee, only to later scrub his social media following immense public backlash, many calling his message a far-right "dog whistle." Hanson would also face backlash amongst a Juneteenth post she made attempting to celebrate the holiday, all of which has been deleted from her social media as of the writing of this article.
Rather than insert harmful rhetoric like Hanson and Carr would have their supporters believe, the conversation around the significance of Juneteenth instead included that of Tennessee State University Professor Dr. Learotha Williams, who took to the stage to spread factually accurate information regarding the history of how slavery was conducted in Nashville and Tennessee.
Before the studious crowd sitting on picnic blankets and folding chairs in front of the main stage, Dr. Williams taught how "Nashville's first big business, the buying and selling of human beings is what made the public square move, it made it groove right? You go there today for concerts, we get down, we have a good time, but every Saturday afternoon roughly around 2 o'clock, they were selling people in that space."
Dr. Williams continued to describe the auction that would take place at the intersection of Martin Luther King Blvd. and 4th Avenue.
"That street was lined with slave brokers, and you would find men, women, and children being sold right at that corner, right where the Warrens building sits today. But nonetheless, our people persevered."
Juneteenth615 is available to be followed at www.juneteenth615.com.