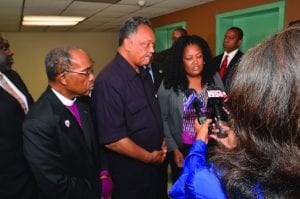 MEMPHIS, TN — Rev. Jesse L.  Jackson, Sr. toured Collins Chapel Connectional Hospital with Bishop Williamson, ecumenical leaders, Healthcare Professionals, African-American Physicians, elected officials, Chamber of Commerce representatives and potential donors.  Jackson spoke and promoted Collins Chapel Connectional Hospital's $5 million renovation and expansion.
Jackson also participated in a Community Forum at the National Civil Rights Museum. The topics he covered was: Preparing for MLK 50: Where are we 50 years later, Minority Participation with City, County, State and Institutional Contracts.
Panelist for the event included Felecia Bean-Barnes, Vice President, Bean & Prince Contractors and board member of the Memphis Urban League; Fred Davis, longtime Civil Rights Activist and President of Fred Davis Insurance Co., Roby Williams, President of Business Development, Black Business Association and Bernel Smith, CEO/Publisher of the New Tri-State Defender.
Jackson visited the Mt. Vernon Baptist Church Westwood, Mt. Pisgah CME Church and other prominent Memphis churches.
On August 14 Rev. Jackson participated in the Tri-State Leadership Breakfast Summit sponsored by Tri-State Bank and benefitting Collins Chapel Connectional Hospital Venue: CME National Headquarters, Memphis First Plaza Ballroom, 4466 Elvis Presley Blvd., 3rd Floor.
Rev. Jackson later toured St. Jude with Bishop Williamson, and former Mayor A C Wharton. Rev. Jackson concluded his visit with discussing Minority Participation issues that involved: City, County, State and the University of Memphis Contracts. Economic Agenda for the Tri-State Rainbow PUSH Coalition, Voter Education and Mobilization.