By Janice Malone
NASHVILLE, TN — The 2018 SCOTT HAMILTON & FRIENDS event is just around the corner. This will be the third time for the now annual fundraiser event to take place here in Nashville at the Bridgestone Arena, November 18th starting at 5pm.
Scott Hamilton & Friends, hosted by cancer survivor and Olympic Gold Medalist Scott Hamilton and singer/songwriter Sheryl Crow, with special guest host Kristi Yamaguchi, will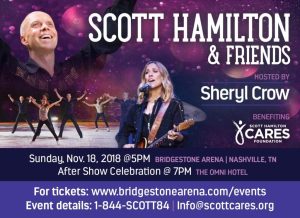 simultaneously feature live music and ice skating from the biggest names in figure skating including:  2x Olympic Ice Dance Gold Medalists Tessa Virtue and Scott Moir, Olympic Ice Dance Gold Medalists and Dancing with the Stars champion Meryl Davis and her partner Olympic Ice Dance Gold Medalist Charlie White, Olympic Men's Silver Medalist Patrick Chan, Olympic Bronze Medalists Maia Shibutani and Alex Shibutani, Olympic Pairs Bronze Medalists Meagan Duhamel and Eric Radford, Olympic Team Bronze Medalist Ashley Wagner, 2x Olympic Pairs Gold Medalist Katia Gordeeva, Olympic Ladies Bronze Medalist Kaetlyn Osmond, Olympic Team Bronze Medalist Jeremy Abbott, Ice Dance World Medalists Kaitlyn Weaver and Andrew Poje, and US National Gold Medalist Ryan Bradley. "You know, just being able to assemble this type of music and athletic talents together at the same time is such an exciting feeling that I just can't describe," says the Olympic Gold Medalist Hamilton from his offices in the Williamson County area. 
Once again Scott will be partnering and co-hosting once again with his long-time friend nine-time GRAMMY Award winner Sheryl Crow. Scott says, "It's really just an honor and a thrill to be able to do these types of shows and to partner with Cheryl.  I never want to do this event without Cheryl. I mean, she's become such a great partner in everything with this show. It's just incredible on the amount of respect that she has in the music community here and all over."
Proceeds from the concert will benefit the Scott Hamilton CARES Foundation, dedicated to changing the future of cancer by funding advanced, innovative research that treats the cancer while sparing the patient. 
The night will also include a return of the fan-favorite special performance by local skaters, who raise funds for the opportunity to perform in the show through the CARES Foundation's Sk8 to Elimin8 Cancer peer-to-peer fundraising program. In addition to purchasing tickets for the big Bridgestone event, the public can continue to support the CARES Foundation throughout the year in various ways. Visit the website www.scottcares.org for more in-depth details. Scott shares even more. "We do a lot around the country with our peer-to-peer fundraising in our state to eliminate cancer. People may want to just support one of our young ones who are becoming philanthropists in their own. Again, we need all the help we can get. We work very hard to steward the money that we raise and make sure it's going to the right places. So, you know I urge people to get involved and come join us  by supporting our efforts.  We're also very collaborative in the way that we do things meaning, that we work with a lot of other foundations too, in helping to raise funds in the area of cancer research."
Tickets are on-sale now for reserved seating are available at Bridgestone Arena Box Office, Ticketmaster outlets and ticketmaster.com. Tickets and sponsorship packages that include an After Show Celebration at the Omni Hotel – featuring dinner, live music and a silent auction – can be purchased at https://bit.ly/2s3hGj4
For more information, visit ScottCARES.org