By Clare Bratten
FRANKLIN, TN – People who think that Tennessee was not so heavily involved in the slave trade as other states in the Deep South are mistaken according to historian Bill Carey. Carey told a gathering Friday at the African American Heritage site, the McLemore House in Franklin, that even the state government of Tennessee owned slaves and used slave labor to build infrastructure and the Capitol building. 
Carey researched advertisements in early newspapers across the state Tennessee from 1791 to 1864 to document Tennessee's history of slave trading, the sale of slaves and

slaves. His book, "Runaways, Coffles and Fancy Girls: A History of Slavery in Tennessee" draws from these advertisements to document how state government, police, banks and virtually every institution in Tennessee was profiting from or doing business with the slave trade in some manner. The book is illustrated with reproductions of the ads.
An early form of what would now be called sex trafficking was evident in advertisements for "Fancy Girls" – young black women sold to be sexual slaves. The term "coffles" in the book's title refers to the shackles used to link a line of slaves together. Slaves imported to Tennessee often came by way of chain gangs walking from Virginia to Maryland to Nashville to New Orleans. 
"That route should be called another 'trail of tears' or someone should come up with another name for it– it cost many more lives than the Cherokee Trail of Tears," said Carey. Slaves were walked to New Orleans because walking gave them time to become adjusted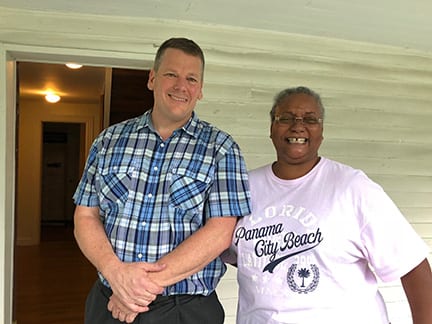 to the climate and not so many who walked died as those who were shipped by boat to New Orleans and then suddenly succumbed to disease in the new environment.
"In 1836 the state of Tennessee advertised a lottery to fund improvements. The state sold five people [in the lottery] and three of them were children under 8 years old. Local governments employed slave labor, but the money was paid to the slave owners," said Carey.  
"In 1830 the government of Nashville paid a slave trader $12,000 to buy 24 slaves. Other advertisements for the government's 'runaway slaves' were under the signature of Samuel V. D. Stout, the Mayor of Nashville," said Carey.
The Emancipation Proclamation of January 1, 1863 excluded ending slavery in Tennessee because the state was not in open rebellion and was largely under Union control, so historian Carey had to surmise when the practice of slavery actually (but informally) ended in the state by examining when the ads for runaway slaves stopped. He pinpoints October 1st, 1862 as the moment when newspapers across the state abruptly stopped advertising for runaway slaves (and all newspapers in Tennessee had previously profited from these ads). Military Governor Andrew Johnson officially ended slavery in Tennessee by decree on October 24, 1864 so the news of emancipation and the enforcement of the law may have not been communicated to some slaves until later, as the Juneteenth celebration recognizes when the news finally reached Texas. But newspapers in Tennessee would no longer run ads trying to locate "runaway slaves."
Bill Carey's book, "Runaways, Coffles and Fancy Girls: A History of Slavery in Tennessee" is Carey's third book. He writes a regular column for The Tennessee Magazine.
The restored historic site, the McLemore House in Franklin was built in 1880 by Harvey McLemore, a former slave, who purchased four lots in the section of Franklin which was known as "Hard Bargain" based on his ability to drive a hard bargain and became a neighborhood for African American citizens. The African-American Heritage Society, a non-profit organization, purchased it and runs it as a museum.
PHOTO 1 Cutline:  Historian Bill Carey and Katherine Glenn at the McLemore House. Glenn is a regular reader of Carey's magazine columns and came to hear about his book "Runaways, Coffles and Fancy Girls: A History of Slavery in Tennessee."
PHOTO 2 Cutline: A gathering at McLemore House listens to author Bill Carey describe the slave trade in Tennessee.
PHOTO 3 Cutline: The McLemore House hosted a talk on the history of slave trading in Tennessee by author Bill Carey.