By Wiley Henry
MEMPHIS, TN — They were the "children" of Andrew Charles "Moohah" Williams Jr., the trailblazing announcer at WDIA 1070 who used his influence to shape the lives young people.
A bevy of them, known as the Teen Town Singers, are now in their 70s and 80s and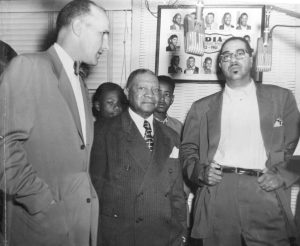 ambling along. There were hundreds of them altogether. On Dec. 7, at least 30 paid respect and celebrated the birthday of their founding father. He would have been 103 years old. 
Joan Patterson, Williams' daughter, started the conversation by asking her fellow Teen Town Singers to give a testimony if her father had impacted their lives. She had her own memories to share as well. 
 "I was a little girl, and in those days the pompadour was very popular," Patterson remembered. "I wanted my hair like that. But Mom didn't feel like a two-year-old should wear it." Her father begged to differ. "Dad wanted to please his little girl. So he took a shoe spoon and wrapped my hair around it into a pompadour. He wanted me to feel like a little princess. I was his little princess."
Other testimonies were just as compelling and noteworthy, but mostly about the group that Williams steered to success. Some stories drew chuckles. He was their surrogate father and held them to account as he did Patterson, who sang with the group for six years.
"Mr. Williams was like a father to me. He was instrumental in me getting a scholarship for $250. That was a lot back then," said Percy Wiggins, who used the money to attend Tennessee State University, Williams' alma mater.
Williams doled out scholarships to other students as well. Markhum "Mark" L. Stansbury Sr. was awarded $100. "That got me through school at Lane College," said Stansbury, who has been associated with WDIA for 62 years.
Williams was a stickler for education and frowned on wanton behavior, and tardiness, too. He taught biology at Manassas High School where he'd first organized a boys choir. While his work on the radio and in the community was tantamount to his success, he believed a good education was germane.
"All that I went through, I felt loved all the years we were together," Mary J. Cooper said. "Mr. Williams was our dad and we were good children. That was the theme of the Teen Town Singers."
Williams began organizing the Teen Town Singers in 1949 shortly after WDIA switched from country and western music to all-black, on-air personalities and programming to attract black listeners. 
Cathryn Rivers Johnson was the pianist for the Teen Town Singers. She taught at Booker T. Washington High School and was the musician for Salem Gilfield Baptist Church. A few in the group evoked her memory as well.
"I've known Mr. Williams all my life," said Dorothy Herenton, the sister of former mayor Dr. Willie W. Herenton. "When Mr. Williams would come over to Booker T. Washington, he would visit Ms. [Cathryn Rivers] Johnson's class."
Herenton noted that Williams was a good man – "and he didn't play."   
Williams died three days before his birthday on Dec. 4, 2004. He'd worked at WDIA for 34 years as an announcer and director of community relations. Twenty-one of those years were spent organizing and directing the Teen Town Singers.
The group disbanded in 1970. They meet twice a year in honor of Williams – once in the spring and the other around his birthday. The camaraderie is heartfelt; the memories sustain them; and they keep his spirit alive.
Fred Davis, owner of the Fred L. Davis Insurance Agency, said Williams tapped him 27 years ago to chair the group. Williams was also Davis' teacher at Manassas.
"This group means a lot to me," Davis said. "I've been in this group more than any other group in this town. We still exist."
Barbara Griffin Winfield said she had the best time in her life when she was a Teen Town Singer. "Don't think people have forgotten about us," she said, "because they haven't." 
Memphis hasn't forgotten what Williams did to shape the lives and careers of the youth in his charge. Under his tutelage, their voices rang out over the airwaves at WDIA and they shared the stage with mega stars such as The Temptations, Smokey Robinson and the Miracles, and others.
Cheryl Fanion Cotton thanked God for Williams. "I will love him until I die," said Cotton, who would eventually travel across the country and participate in the Civil Rights Movement. 
"I wish children today had a role model like A C Williams," she said.