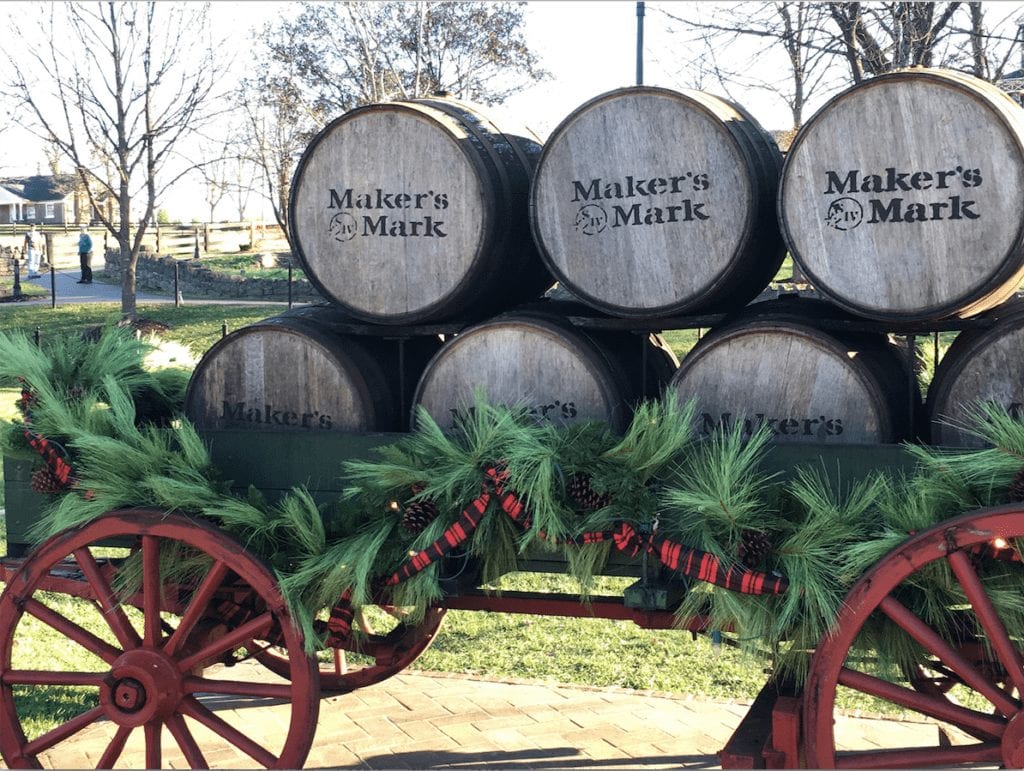 Looking for a spirited country adventure? Head to Maker's Mark distillery in Loretto, KY which is part of the famed bourbon trail. The three-hour drive from Nashville to Loretto takes visitors down long winding country roads and through small neighboring towns. Giant black barns, which store approximately 50 thousand barrels in each unit, are an indication that the campus is close.  Upon arrival, I was impressed by the countryside luxury, seamlessly blending historic and modern architecture.
The Homeplace is where the tours begin. The VIP Tour and Tasting will intrigue bourbon newbies and aficionados. Bourbon consists primarily of corn with some wheat and barley. The production process can take up to seven years, which includes the storage time in a charred oak barrel. Barrels are hand rotated so the alcohol can go in and out of the wood slowly. Approximately 55 percent of the flavor comes from the wood, so adequate storage time is essential. Taste testers verify that each barrel has matured and ready for bottling. Therefore, each bottle is made by taste, not the length of storage time.
The VIP Tour and Tasting includes visits to the Quality Control Lab, Print Shop, Warehouse and Maker's Mark Cellar. It was fascinating to hear about the detailed process from the selection of grains to the packaging. The location was chosen due to the limestone creek, which offers unique minerals.  Maker's Mark still uses a 1930s press to print each label. Each bottle is dipped in a signature red wax, which guests can handdip within the gift shop. Barrels are never reused. Rather they are sent to Scotland where Scotch Whiskey is made.
The distillery offers an onsite restaurant, Star Hill Provisions,  showcasing farm to table cuisine and signature cocktails by Chef Newman Miller. Miller has mastered his craft and provides fresh garden flavors and southern classics. Lunch is available Wed. thru Sun. 11:30 a.m. – 4:30 p.m. Enjoy a Kentucky Hot Brown, consisting of country ham, roasted turkey breast, a special white sauce, bacon and tomatoes, served up on a hot skillet. There are sandwiches as the Benedictine offering original cucumber cream spread, goat cheese mouse on wheat toast with greens, pickled onion and cucumber. Prices average $10.00 – $12.00. Maker's Bourbon balls are a must so do not exit the premise without trying one. Dinner is available select times throughout the year.
Maker's Mark is a must see along the famed bourbon trail in KY and offers visitors a hospitable and fascinating tour and tasting.
For more information, visit Makers Mark Distillery.
Maker's Mark Distillery Candlelight Tours
3350 Burkes Spring Road, Loretto, KY
This holiday season, thousands of lights and nostalgic decor will greet bourbon fans at the Maker's Mark Distillery, a designated National Historic Landmark and must-see on the Kentucky Bourbon Trail. The charming 1850's Victorian village and 19th-century restored distillery will extend its hours on the first two Saturdays in December, offering visitors the opportunity to explore the idyllic grounds in a festive light.  Guests can experience the self-guided Candlelight Tour free of charge, shop for family and friends at the Maker's Mark Gift Shop, and indulge in Maker's Mark-inspired cocktails and snacks. It's the perfect way for anyone to get into the spirit of the season.
Cost: FREE!
Dates & Times: Saturday, Dec. 2 – Dec. 9 from 5:00 – 8:00pm.
Dinner at Candlelight Tours
Choose from Dec. 2 or Dec. 9 at 5:30 p.m. or 7:30 p.m.
Cost: $100 per seating which includes a holiday-inspired three course communal dinner and paired cocktails by Chef Newman Miller at Star Hill Provisions.