By Ron Wynn
NASHVILLE, TN — The season didn't end in the manner that they would have liked, but last week Tennessee basketball did enjoy a historic moment. For the first time in 44 years the Volunteers had two players selected in the NBA's first round. Keon Johnson ended as the number 21 pick after being traded by the New York Knicks to the Los Angeles Clippers. Jaden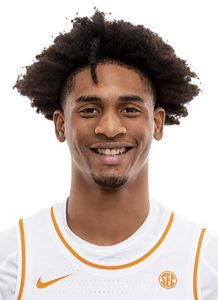 Springer was the number 28 pick of the Philadelphia 76ers. While these weren't quite as high as Bernard King (number seven) and Ernie Grunfeld (number 11) in 1977. 
But still, Tennessee and Gonzaga were the only NCAA programs with multiple first round selections.  "I am excited for them," Tennessee head coach Rick Barnes told USA Today last week before the draft. "That is what is most exciting. That was their dream."
The Volunteers' Yves Pons also is reported headed to the Memphis Grizzlies as an undrafted free agent. 
Yves Pons reportedly will sign with the Memphis Grizzlies after he went undrafted. Johnson is the highest-drafted Vol since Tobias Harris was picked No. 19 in 2011. Johnson, a Shelbyville, Tennessee, native, averaged 11.3 points, 3.5 rebounds and 2.5 assists in his lone season at UT. He said he wants to show "how fierce I play on the court every time I lace my shoes up" in the NBA.
"No matter who I'm playing against or how much time is left up on the clock," Johnson said. "I'm always giving my all."
The Memphis Grizzlies selected Stanford forward Ziaire Williams with the No. 10 pick. They acquired that selection in a trade with the New Orleans Pelicans. Their second first round pick was Santi Aldama, a center from Loyola-Maryland.