By Clint Confehr
MURFREESBORO, TN — Four teenage boys were in custody Tuesday, accused by Rutherford County Sheriff's deputies of vandalizing an African American church that was being cleaned by volunteers Wednesday evening.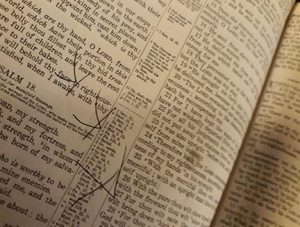 The Rev. Richard Sibert, pastor of Walnut Grove Missionary Baptist Church, 2480 Twin Oak Drive, prayed with one of the boys whose mother took him to the church that's east by southeast of Oakland High School.
They prayed "that he come to his senses and … that he should be his own person," Rev. Sibert said. The mother "had done a lot to keep him on the straight and narrow but it seems like he's followed the crowd … We suggested that he keep in touch about how he's doing in school.   we're going to do a weekly assessment on how he's doing."
Associate Pastor Goldy Wade said "So many people are volunteering and donating labor and money" to help clean and refurbish the church. "This the Murfreesboro that I really know."
Rutherford County Sheriff's Sgt. Derek Oeser reported that Deputy Shawn Matthews found "KKK" written in Bibles and "We are white and we are watching you, white power" written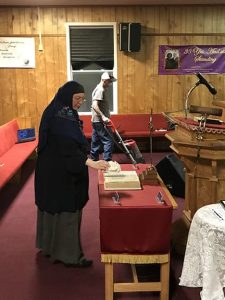 on the doors of the predominantly African-American church.
Wade said, "It's sad that we still have the element that will do these things, but we have a bunch of good people here in Murfreesboro."
Damage to the church was extensive, including overflowed toilets with water damage to the building.
"They put sausages in it," said Murfreesboro resident Jackie Davis, a Girl Scout leader.
The church had a Sunday dinner there and the boys allegedly stuffed food down the toilet.
"It's hard to believe that kids at that age would have animosity in their heart," Wade said. "It didn't happen overnight. There could be some kind of problem in the family. The family is where it starts and where they spend most of their time."
Davis was told a pressure washer was needed. She took one to the church, but one had been brought so she stayed and was cleaning the bathroom after the plumbing was cleared.
"It's terrible," she said. "It's sad."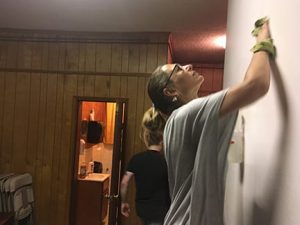 Tammy Harmon, a member of the Islamic Center of Murfreesboro and a Girl Scout leader, said "a sister Girl Scout told her about it on Facebook." Her faith community and Girl Scouts went to the Baptist church to help remove the graffiti.
"They came out to support us when we were vandalized and helped us clean our wall," Harmon said. "There was an outdoor brick building to be cleaned with brushes and power wash.
"The kids sprayed a fire extinguisher all over the sanctuary, and wrote KKK on Bible pages," she said of a large Bible that was open in the sanctuary. "Someone said vulgar words were painted on the wall inside but they were painted soon" and she didn't know what the words said.
"Somehow they broke into the pastor's office," Harmon said. "They took bars off and broke in."
Sibert said they "broke the bars that were guarding the air conditioner to my office. The air conditioned was pushed in onto a table in his office. I need it replaced because it was welded in because of other incidents where it had been stolen."
The Sheriff's Department reported that with the help of citizens, Deputy Matthews developed two suspects and located the juveniles nearby. Those suspects, ages 14 and 16, are accused of burglary, theft and vandalism. A video camera that's used to ljove-stream worship services on the Internet was stolen from church and found in the woods behind the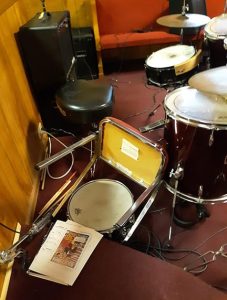 church.
Detective Jamin Humphress found two more boys, ages 15 and 16. Wednesday morning, they were accused of burglary and vandalism.
Technically, juveniles are not arrested. They're taken into custody and named in petitions to a juvenile court judge who's ask to find them delinquent because of acts which, if committed by an adult, would be considered crimes.
Sheriff Mike Fitzhugh said he's pleased that the officers "quickly addressed these insensitive and disturbing hate crimes at a place of worship." Humphress said he worked with a school resource officer to identify the two other juvenile suspects. The detective plans to speak with the District Attorney's Office about additional charges.
Sibert was asked if he thought a federal hate crime might be filed.
"I don't know how they will approach it, but I know it has all the elements of a hate crime with that kind of graffiti," Sibert said.
Several people interviewed said one or more of the boys "laid a white gown down on the fellowship hall."
Wade said he believes the crimes were committed between noon and 1:30 p.m. Tuesday.
"I'm praying for the kids and hoping they know what's been done and that there will be help for them and their parents to change their attitude," the associate pastor said.
Angela Bingham, a Sunday school teacher who works with the Murfreesboro branch of the NAACP, said Renewed Life Ministries had members helping clean her church Wednesday night.
Asked what should happen to the boys, Bingham said, "I really think they need some counseling and community service and come work around the church. I know sometimes they're put into a facility, but my heart tells me that need to be reformed. What they did was evil."
Sibert agrees.
"I would prefer them to have some in-house suspension and get some counseling," the pastor said. "Going to the alternative school may be alright, but … [they might] … come out worse than when they went in because they learn the tricks of the trade.
Bingham said one boy's mother "made her son apologize tonight. She said she didn't raise her son that way. That was admirable because he's a teenager and you know a teen might say no," Bingham said.
The pastor was asked if the boy was repentant.
"I think he was remorseful," Sibert said. "He was tense at first and then relaxed when he found out we were not going to hurt him.
"We reminded him that if he was a year older things might be different for him," Sibert said. "At 17 they can try him as an adult."
Bingham indicated that while delinquency was displayed, there's opportunity for the boys.
"It can be a great turnaround … for them to see that this is the wrong way to go," she said. "If it changes their heart … they will see that all people matter and I'll be so pleased. We were together tonight and praying for them.
"The boy who came tonight saw all kinds of people there: Hispanic, white, black, Islamic, Arabic…"
While cleaning up, Bingham said, "We threw three large garbage bags away. They cooked the sausage in the cast iron skillet."
Wednesday night the church congregation planned to package items that had been collected for homeless people; "things like back packs for men and purses for women, tooth brushes…" other toiletries, Bingham said. "They'd taken that stuff outside…" It was found "over the fence and in the wooded area… We're disappointed, but we're still moving on."
Jennifer Vannoy, a candidate for state representative from House District 34, said, "Tonight I'm just showing some love. It's really unfortunate. Every one in a while hate and racism pops it head up. Murfreesboro has this again and again and we come in to show we're better than that. It happens everywhere and it makes me proud that when it happens here, that people show up to clean up and to support and love."
Wade said "What made me feel good was to see all these volunteers to help clean up. We got to get ready for Sunday services."