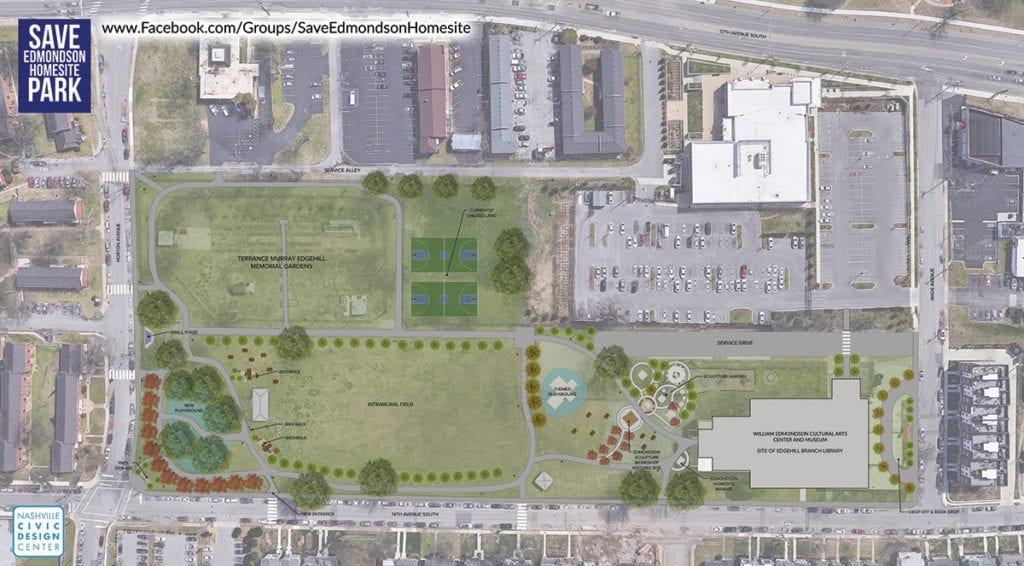 NASHVILLE, TN — The William Edmondson Cultural Arts Center and Museum is the centerpiece of our Higher Vision Master Plan for the William Edmondson Homesite Park. It will honor the legacy of its namesake by housing a variety of arts resources and programs. In addition, the building will house a new, expanded Edgehill Branch Library. The main entrance will face North into the park, directly overlooking the actual historical site of William Edmondson's home and outdoor workshop, where he sculpted his inspired masterpieces that made him famous.
Inside the center, visitors will enter a spacious grand lobby featuring historical displays telling the rich history of Edghill, from its start during the Civil War as a "contraband camp" for escaped slaves, to the present day. Notable figures such as 19th century activist Callie
House, pioneering musician DeFord Bailey, and civil-rights-era councilman Mansfield Douglas will be honored, in addition to Mr. Edmondson. We hope to be able to bring some of William Edmondson's sculptures "home" to be displayed inside the Center.
Studio and class spaces will be dedicated to community arts education for adults and children, including painting, clay, theatre arts, and dance. Curated gallery spaces will be provided for local artists. In addition to these services, we envision classrooms for community education such as computer classes.
The historic Edmondson Homesite parcel itself will be developed into a landscaped pedestrian plaza with historical panels marking the place where he worked. The historic Homesite will be the gateway to a world-class sculpture garden, where local artists will be prioritized in commissions to display their work. Children will be invited to explore a sculpture-themed playground on the Homesite property.
Throughout the park, the pedestrian walkways will be laid out to lead visitors through the Historic Site and sculpture garden, and will converge at the main entrance to the Edmondson Cultural Arts Center.
Other Important Features
• Cultural Arts Center will be symbolically oriented Northward toward the historic site, park green space, and the Edgehill neighborhood
• The Memorial Community Gardens, the intermural field, the walking paths, and other park features will be maintained and further improved
• The existing basketball courts will be relocated on a piece of unused property south of the Community Gardens
• New pedestrian park entrances and sidewalks will be added for better access from all directions, and new signage will be erected at the corners of the property
• The playground on the north end of the property will be replaced and enlarged • A new small permanent stage will be built, to host community gatherings
Who are we?
The Save the William Edmondson Homesite Park & Gardens Coalition is a grassroots volunteer advocacy group with the ongoing mission to save, protect, preserve, and enhance the beloved neighborhood park, community gardens, and historic site located at 1450 14th Avenue South in Edgehill.
Last summer, the park, which has been a cherished community asset for decades, was
suddenly threatened with destruction, as the mayor abruptly announced a plan to sell the property to private developers to plug a budget shortfall. The Homesite Coalition was quickly formed to stop the sale, using protest, education, and political advocacy. Our efforts were a resounding success, convincing Metro Council to vote unanimously against the sale.
After stopping the sale, the Homesite Coalition has turned our attention to developing a longterm vision for the development of the site into a world-class arts, culture, and educational center, including a fitting memorial to Nashville's most important 20th Century artist.
The Save the William Edmondson Homesite Park & Gardens Coalition was founded by the artist, educator, and documentary filmmaker Mark Schlicher, along with historian, professor, and local civil rights leader Gloria McKissack. They were joined by longtime Edgehill leader and community organizer Brenda Morrow, and neighborhood leader Tyson Heller.
What is the Higher Vision Master Plan and How Was it Developed?
As promised last summer, The Homesite Coalition facilitated a true community-led planning process on the future of the park and historic site. The Higher Vision Master Plan is the result of several months of community meetings and discussions among Edgehill residents and neighborhood groups, historic preservationists, and art and cultural historians. The Nashville Civic Design Center has assisted as well.
What do we want from Metro government partners?
• Metro departments commit to meet with the Homesite Coalition within the next thirty days, to discuss our Higher Vision Master Plan and how to make it happen together
• Prompt transfer the property from Metro Schools to Metro Parks and/or Libraries 
• Explicitly make this property a high priority for preservation and enhancement
• Robust cooperation among Metro departments, to achieve a broad, inclusive vision
What we bring to the table
Our efforts to protect and develop the Edmondson Homesite Park have attracted the interest of national arts publications, as well as the support of the National Trust for Historic Places.
Noted academics have written in favor of the cultural and historic value of the site.
The Homesite Coalition represents the collective voice of several communities and individuals, including neighbors, artists, historians, urban gardeners, environmentalists, and educators. Organized Neighbors of Edgehill, the Edgehill Village Neighborhood Asociation, and other allied neighborhood groups have demonstrated their deep committment to this park by providing tangible support for many years, despite near-complete absence of Metro resources.
The Community Gardens, playgrounds, athletic fields, park benches, picnic pavilions, and walking paths have all been the result of community effort and fundraising. We have decades of proven capacity to plan, execute, and support community-based visions.
In the past two years, improvements by the community have included new trash cans, historical signage, pet waste stations, and the recent planting of over 60 new trees, which we hope to be recognized soon with National Arboretum status.
We are in the process of creating a non-profit "Friends-of" group to provide the longterm organizational infrastructure for a cooperative relationship with Parks, and a conduit to win substantial public arts and historic preservation grants.
Who is William Edmondson?
William Edmondson (1874-1951), was the first African American artist, and the first
Tennessean, to earn a solo exhibition at New York's Museum of Modern Art, in 1937. He is widely considered to be one of America's most important 20th Century self-taught artists.
Born on a plantation in southwest Davidson County where his parents had formerly been enslaved, William settled in Edgehill as a young man, working first for the railroad, and then as a janitor and handyman for a small local hospital.
After losing his job in the Great Depression at age 57, William received a "divine call" to take up sculpting in limestone. He carved tombstones, ornamented with doves and angels, and fanciful garden figures such as lions,
squirrels, and fanciful critters. William became a familiar neighborhood figure himself, chatting with neighbors while working in his open-air studio in his front yard, perched among hundreds of his finished sculptures.
Why does saving the Historic Edmondson Homesite matter?
For some artists, the physical environment where they work is incidental. For others, like William Edmondson, it is a critical factor in their work. Although William's home and workshop no longer stand, the fact that he worked in an outdoor studio in the heart of a tightknit neighborhood greatly influenced both the subjects of his work and his approach. His subjects included neighbors and friends. He was an avid gardener, and his work was intended to be displayed outdoors, surrounded by nature. His home was in the center of a vibrant community that thrived despite the strictures of segregation and prejudice.
It's frankly extraordinary that this particular tract still remains as an intact piece of civic greenspace, especially given that it was nearly lost to gentrified development last year.
Nashville has a unique opportunity to honor this nationally-important artist, in the very environment where he was inspired to create his great art. We can do this together by creating a tangible living legacy that the city can be proud of for generations to come.