By Wiley Henry
MEMPHIS, TN – When it comes to gun violence, Memphis ranks pretty high compared to cities its size. On any given day, someone is left for dead or seriously wounded.
Conflict and violence led to the shooting death of a young man by his friend in an excerpt from "Ritual Murder." The excerpt focused on the senseless killing and ensuing investigation.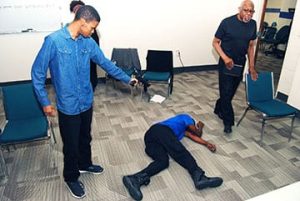 "When murder occurs for no special reason on a Saturday night, it's ritual murder," said Levi Frazier, narrating the scene when Joe Brown Jr. (Brandon Lewis) shoots and kills his best friend, James Roberts (Willie Perry).
In the original one-act play, written by Tom Dent, Brown knifes Roberts. In the excerpt, the actor from Blues City Cultural Center (BCCC) brandished a handgun. The play was staged at the Memphis Office of Youth Services (MOYS) on April 29. 
Levi Frazier and his wife, Deborah Frazier, co-founded the performing and visual arts organization 40 years ago. The couple, both actors, playwrights and performing artists, took part in the play.
Ted Lange (pronounced Lunge) observed the action from the audience with a small group of budding writers. Lange is best known for his role as the bartender, Isaac Washington, in the TV series "The Love Boat." 
He was BCCC's artist-in-residence for "Peace in the House," a program that uses the creative arts as a platform to engage youth in activities that promote peace and reduce violence. 
"Ritual Murder" was included in "Peace in the House," which was tapped for a National Endowment for the Arts Challenge Grant. Lange was then given the green light to teach a two-week writing class.
Nearly a dozen youth from MOYS got a once-in-a-lifetime opportunity to work with the renowned actor and writer in late April prior to BCCC's presentation of "Peace in the House."
But Lange didn't come to Memphis to teach acting. "I didn't give them any acting classes," he said. "I told them what I was doing and why I was doing it. And I told them that 'I want to see where your imagination takes you.'"
Imaginations varied from one participant, or future thespian, to another after Lange gave them an assignment and made sure that they wrote something each day. The assignment yielded different results. 
"I gave them exercises and I tried to teach them some of the tricks that I learned as a writer in the process," he said. "I wanted to give them the benefit of what I learned."
The class in turn used what they learned and scripted a storyline, or used poetry, to ascertain what happened in the young man's life that prompted him to kill his friend in the excerpt from "Ritual Murder."
"Before a young person can do anything, they have to have peace," said Deborah Frazier, meaning peace from within.
Lange observed a couple of adults taking part in the writing class. They, too, sought his opinion and expertise. Some of them – both youth and adults – are aspiring writers. A few are professional.
One of them was Caroline Matthews, a freelance writer and coordinator of BCCC's "Sew Much Love," an entrepreneurial program for homeless and marginalized women. She listened intently and picked up a few pointers. 
"The focus was to learn playwriting," Matthews said. "He would elicit from us prompt lines, devices and literary strategies to get us to think outside the box. He also talked about word choices and diction."
She added: "The writing exercises were an invigorating experience."
"You got to do exercises. Just like you work out your body, you have to work on your writing," said Lange, more than just a stage and screen actor. He directs and writes plays as well. Twenty-five are currently in the hopper. 
He said working with young people is a natural fit. Levi and Deborah Frazier thought so too when they brought Lange to Memphis. They first met the actor and writer in Poland in 2017. 
"Levi was bringing over his one man show (about Ira Aldridge) and I was bringing over information on a musical (about Ira Aldridge)," Lange remembers. "What brought us together was the legacy of the first black Shakespearean actor in Europe." 
Ira Aldridge was the crème de la crème in Europe in the 1800s, a black Shakespearean actor so revered Poland honored him with a state funeral after he died in 1867.
He was the connection that brought Lange and the Fraziers together.
"Often times when you see an actor on TV, you think Hollywood actor. You don't have time for young people," said Levi Frazier.
Lange debunks that perception and looks forward to coming back to Memphis.