By Genma Stringer Holmes
NASHVILLE, TN — Meharry Medical College with the Parthenon (TN) Chapter of The Links, Incorporated, TN Department of Minority Health and Disparities Elimination, SelfMade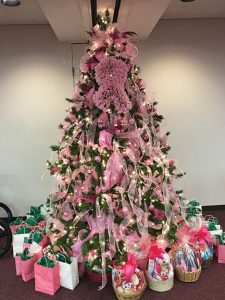 Network, and the Intercultural Cancer Council convened the 2nd Annual Christmas Goes Pink Breast Cancer Awareness summit presented by the TN Breast Cancer Awareness and Action Coalition on Saturday, December 15, 2018 on Meharry's Campus. 
Nearly 200 women from Memphis, Chattanooga and the Nashville area were in attendance for the free summit that gave educational and supportive information while empowering cancer survivors or those who are at risk. Participants were welcomed to the summit with opening remarks by Dr. Patricia Matthews-Juarez; Monique Anthony, director of the Tennessee Office of Minority Health Disparities Elimination; the Dean of the School of Medicine, Dr. Veronica T. Mallett; Dr. Jan-Nee Sheats-Mathis, president of the Parthenon (TN) Chapter and Ms. Stefanie Rome. 
Breast surgeons, Dr. Robin Williams and Dr. Raeshell Sweeting, returned this year to answer questions from attendees. Many survivors were eager to share their journey with the doctors who were relatable and compassionate. Both doctors shared best health practices, self-care after a diagnosis, the importance of participating in trials and thriving not just surviving. 
Christmas Goes Pink summits at Meharry were the brainchild of Dr. Patricia Matthews-Juarez, Ph.D., Senior Vice President of the Office of Faculty Affairs and Development; Professor, Department of Family and Community Medicine; and Director of Research Training Core, Health Disparities Research Center of Excellence. Each summit has included vendors who are resources, patient advocates and community leaders who work tirelessly to address cancer disparities and survivorship. The St. Thomas Health Mobile Mammogram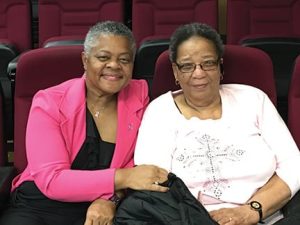 Coach provided free mammograms for the uninsured and insured. A nutritionist and several faith leaders gave health, wellness and spiritual guidance. Summit attendees were also treated to massages, hand scrubs, and manicures provided by the vendors. 
"Education and awareness with proactive screening are the best strategies for reducing and eliminating breast cancer among minority women," stated Dr. Matthews-Juarez.  "When this many women attend a summit about cancer in December, you know we must continue to serve them by empowering them with the knowledge they are seeking," she continued.  
An additional gift to the summit this year was a beautiful Christmas Goes Pink themed Christmas tree decorated by local florist, George Ridley. The tree was filled with presents underneath for survivors and their children donated by Nashville area Secret Santas. Christmas Goes Pink will return in 2019. 
To follow the engaging and educational online Christmas Goes Pink social media campaign throughout the month of December, go to https://www.facebook.com/ParthenonLinks/ or use the hashtag #ChristmasGoesPink to search for posts from survivors, supporters, and vendors. 
Founded in 1876, Meharry Medical College is the nation's largest private, independent historically black academic health center dedicated to educating minority and other health professionals. True to its heritage, it is a United Methodist Church related institution. Meharry is particularly well known for its uniquely nurturing, highly effective educational programs; emerging preeminence in health disparities research; culturally sensitive, evidence-based health services and significant contribution to the diversity of the nation's health professions workforce. Meharry is a leading national educator of African Americans with M.D. and D.D.S. degrees and Ph.D. degrees in the biomedical sciences. 
Visit www.mmc.edu to learn more.