By Vivian Shipe
KNOXVILLE, TN — As you stand by the sign on the grounds of Cal Johnson Rec Center  and look towards the river, you can see the results of the urban renewal, or, as most older  African Americans living in Knoxville call it, "URBAN REMOVAL." Those who look now will see the coliseum, the Women's Basketball Hall of Fame, a hotel and expensive high rise apartments sitting on the rivers edge. Those, like Knoxville-born, internationally acclaimed poet Nikki Giovanni can still see in their hearts and mind what was originally there – a thriving Black community of over 200 professionals; Black doctors, dentists, thriving businesses, movie theatres and homes, oh so many homes….all destroyed in the guise of so called progress.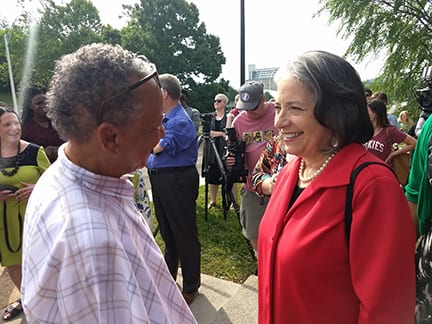 One of those homes was her grandparents home. A happy place where Nikki spent her childhood. She even wrote a poem about her memories of Knoxville Tennessee and the happy times she had on 400 Mulvaney Street. Before a crowd last Thursday, she recounted those memories as the mayor and other witnesses, including little Ellison Garnes, who stood clutching his copy of "Hip Hop Speaks to Children" unveiled a street marker in her honor near the site of her childhood home.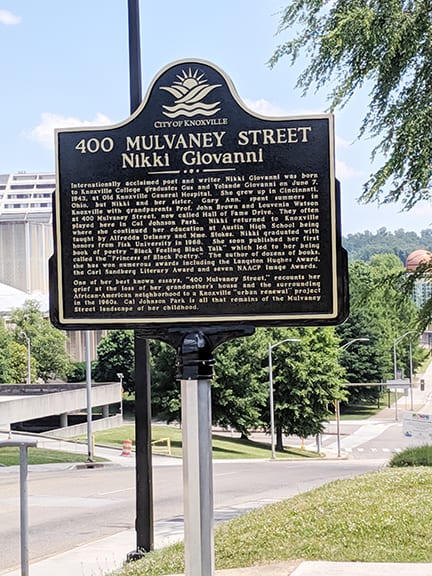 At 75 years young, the beautiful poet is also  a visionary, writer, commentator, activist and commentator. She is one of the world's most  celebrated poets. She has won many awards, among them seven NAACP Image awards.
As she stepped to the podium to speak before the unveiling, she reminded the crowd that "We are a great people". She spoke of the current atmosphere in the country and the decisions currently being challenged by  strongly reminding all the generations who stood before  her, " We are not afraid of a wall, we are not afraid of those who would try to make decisions about my body, and we are NOT afraid of truth and justice." She gave a charge, "Don't let anyone take our greatness away."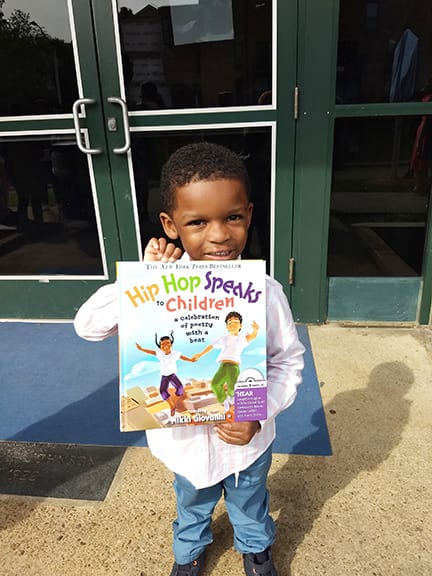 Nikki then raised her voice, used for so many decades since 1968,  to be a voice for others and led the people in an old song she sang as a child  every Sunday morning, along side her grand mother at Mt. Zion.
What a fellowship, What a joy divine, leaning on the everlasting arms……
What a blessedness, what a peace is mine…leaning on the everlasting arms…
What have I to dread, what have I to fear,  leaning on the everlasting arms….
I have blessed peace, with my Lord so near, leaning on  the everlasting arms….
With another look towards the river, she turned and walked over to unveil the marker of a time that must neve be forgotten… lest it should happen again.