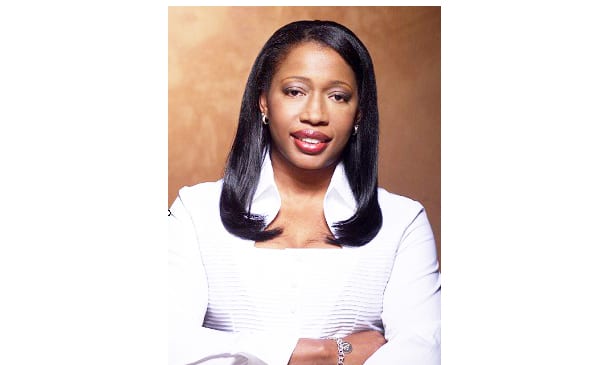 Felicia D. Henderson may not be a household name but her award-winning work in creating television work that's enjoyed by millions of viewers every week in their homes.  Felicia is a multi-talented writer/director/producer & NAACP Award winner, a Gracie Award, the Prism Award, among numerous others. She's a show-running powerhouse who is currently both the co-executive producer of the new Marvel hit comic book Netflix series THE PUNISHER and the executive producer, head writer and creator of the BET hit show THE QUAD. The scripted series is about a true-to-life drama about HBCU (historically black college or university) culture and relationships. The show began its second season last month.
After beginning her writing career in sitcoms, including 90's classics "Sister, Sister," "Fresh Prince of Bel Air," "Family Matters," and "Moesha," Felicia turned her attention to television drama for the Showtime hit series, "Soul Food: The Series," television's first long-running drama featuring African Americans.
Ms. Henderson also has a keen interest in comic books. She's been one of the comic book writers for DC Comics, writing for JUSTICE LEAGUE OF AMERICA, TEEN TITANS, and STATIC SHOCK. In addition to her remarkable television and comic book career, Felicia's currently writing a feature film, WHO'S THIS BETWEEN? that she will mark her directorial debut. Here, she answers 5 Questions for The Tribune.
TRIBUNE: Okay. Without revealing too much, what can viewers expect with some of the main primary characters in the new season that we can talk about a little bit?  HENDERSON: I think the first season was about introducing you to everyone and setting up each character's situation. I think in the second season, we go deeper. Now that you know the characters, we can throw some really challenging situations at our characters, and therefore, at our audience. 
It's pretty cool stuff, whether or not you went to an HBCU. For instance, character Dr. Eva Fletcher, the big thing that she'll be looking at over the course of the season, we'll be watching her go from a person who was only there because she had nowhere else to go, she needed a job to prove herself again, that was why she was there – but in this season we will watch her settle into that job and develop a different relationship with Georgia A&M where she actually cares about the school and what happens to it. Fans will watch her fight for the school, to keep the doors open, not so much because she has to but because she wants to.
TRIBUNE: Do you think that the success of The Quad has spurred a newfound interest in HBCU schools from this generation? HENDERSON: Well, I don't know about that. I think it's, in some ways, too early to tell. I've had one mother tell me, that because he saw the show and started to love the show, that her son was going to another major university but then said, "Let me check out some HBCUs" and then decided to attend one. So, that's one story. I think there is more interest in HBCUs for a few reasons, and our show is part of that. But wouldn't it be awesome if our show was even a small part of more students starting to have an academic interest in HBCUs? That would be really cool!
TRIBUNE: You're also the co-executive producer of The Punisher on Netflix. When you were a little girl, did you have favorite comic book characters, or what? HENDERSON: Of course! I was a sickly child. I had really bad asthma, and I lived in LA, where air pollution was way worse than it is now. So, I had to stay in the house quite a bit.  I became an avid reader. My mom started buying me used comic books, and that's where I first started to love Batman. This was the first comic book I think that I ever read. And in some ways, as crazy as it sounds, I related to young Bruce (Wayne), because he just was sort of a misfit, and had a tragic life, and of course, I was dramatic, so I compared my tragic life of having asthma to his tragic life of losing his parents. That wasn't comparable at all, but that's what I did at ages eight and nine years old.  Batman was my first love and continues to be the one that is my favorite.
TRIBUNE: Would you consider launching your own comic book line or not? HENDERSON: Oh goodness, absolutely. As you know, I wrote for DC Comics for a while. But even before I did that, my real goal was to create my own independent comics, because I tend to really love independent comics. And often, different and more realized, three-dimensional female characters are in independent comics, so I tend to like them and read them. I thought that's what I would do so that I could do much of like what Milestone creators did with those comic books that they published before Milestone was purchased by DC. So, yes, I can absolutely see that somewhere in my future.
TRIBUNE: While growing up, were there any particular television shows that kind of set the direction in your life as to where you are now. creating great TV programs and films? HENDERSON: I'm one of eight children, and in our house, there was also a lot of television. As a young kid, we loved Sesame Street. We watched the news together. We watched 8 o'clock family comedies of every kind together. I loved television! At the beginning of my career, the classic family comedies and sitcoms very much inspired me.  The Archie Bunker sitcoms and shows like that. I also loved mini-series, like The Thorn Birds, and Rich Man Poor Man and Roots. Maybe that's why eventually, I've come to writing drama. I didn't think I was going to be a writer as a kid. I just loved television.