By Vivian Shipe
KNOXVILLE, TN — They entered the sanctuary from the rear of the chapel. The bright light of the day framed her cap and gown as she marched into the 109 year old McMillan Chapel. Marching to Pomp and Circumstance; she was a graduating class of one, representing a new era.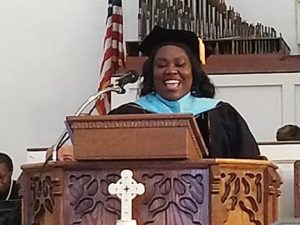 As she came down the middle aisle surrounded on both sides by a crowd of witnesses made up of professors, alumni, trustees, and community; she represented a battle hard fought and won to reopen one of the oldest black colleges in the nation. 
She is Kishia Marie Ruiz, candidate for the degree of Associates of Arts in General Studies with a Social Science Concentration.
She is the first graduate in the rising phoenix of one of the most historic HBCUs in the nation: Knoxville College.
Knoxville College was founded in 1875. It opened 10 years after slavery was abolished. The majority of the buildings were built by the students who attended the college from bricks created in the campus brickyard,  At one time in its history, KC graduated the majority of black educators in the country. The college has survived through fires, and most recently was reaccredited and the graduation ceremony was a testament to the resiliency of the college.
The ceremony not only celebrated the graduate, it also celebrated and inducted five graduates of Knoxville College into the Golden Graduate Club of the National Alumni Association of Knoxville College  from the classes of 1959 through 1969.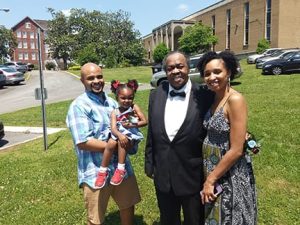 The ceremony also had another historic moment when Dr. Brittany Mosby presented the commencement address. Dr. Mosby is the FIRST Director of Historically Black Colleges and Universities (HBCU). She is a third generation Spelman College graduate and recently earned her Doctor of Education degree in Higher Education Policy and Leadership as a Peabody Honors Scholarship recipient from Vanderbilt University.
As the President of Knoxville College  Dr. Keith Lindsey conferred her degree, Ms. Ruiz turned her tassle; indicating a new era in her life and in the lives of the future students who would soon graduate from Knoxville College.
As the college motto states: Let There Be Light.