By Wiley Henry
MEMPHIS, TN — It's official! The Memphis VA Medical Center (VAMC) has been renamed the Lt. Col. Luke Weathers Jr. VA Medical Center. The dedication ceremony was July 24.
This is the first name change for the VAMC since it was established in 1922. U.S. Rep. Steve Cohen (TN-09) introduced a bill in the 117 Congress on Feb. 28, 2022, to add Weathers' name to the medical center.
H.R. 6863 passed both chambers of Congress in 2022 – the House on Nov. 14 and the Senate on Dec. 6. President Biden signed Public Law 117-236 on Dec. 20.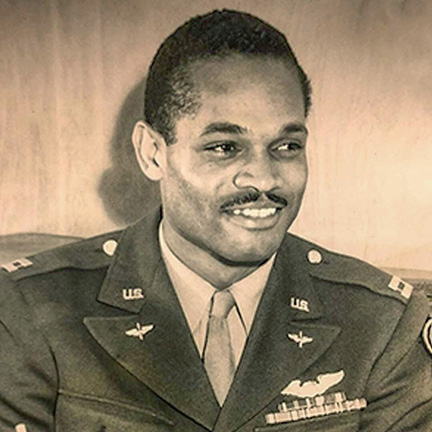 "I am truly excited to share this day with you, a renaming day, where we officially become bonded perpetually to Lt. Col. Luke Weathers Jr., a truly inspiring veteran," said Joseph P. Vaugh, the medical center's executive director.
"This is a great story for America," Cohen said. "This story should be directly sent to [Florida Gov.] Ron DeSantis. You don't eliminate history. You learn from it and make people stronger and better."
Weathers made history as a fighter pilot in WWII as a member of the famed Tuskegee Airmen, or "Red Tails." His acts of heroism are recorded in the annals of U.S. military history.
He was credited with shooting down several German fighter planes, including two fierce Messerschmitt 109 fighters, while escorting a damaged B-24 bomber over Italy in 1944.
"He was a hero to this country and a hero to this city," Cohen said.
Luke Weathers III, the oldest of his father's five children, said his father would have been humbled to see his name attached to the VA Medical Center and the fanfare surrounding it.
Weathers just didn't talk about his heroic exploits as a combat fighter pilot with the 332 Fighter Group's 302 Fighter Squadron, better known as the Tuskegee Airmen, his son said.
"Dad never spoke about that," he said. "He was very quiet. He just wanted to do his job. When he was around 70 or 80 years old, he would have discussions if you brought it up."
When a group of Black coworkers refused to believe that Black fighter pilots existed in WWII, Luke Weathers III launched a search in 1975 and learned more than his father had ever told him and his siblings.
They weren't born when their father and his fellow Tuskegee Airmen commanded the skies in WWII. They would learn that he was a decorated war hero who served his country valiantly, even when segregation was the order of the day back home in Memphis.
"Before he could fight the Germans, he had to fight America, a segregated America that existed…that still goes on to some extent today," Cohen said.
The ceremony and special attention to Lt. Col. Weathers stirred Renee Weathers emotionally. "I miss him," she said, and added: "I will never forget this day in my life."
Renee Weathers was her father's caregiver in Tucson, Ariz., where she resides with her family.
"Lt. Col. Luke Weathers Jr. was a hometown hero," Trina Weathers-Boyce said. "But to our family he was gentle, stoic and a patriot that we simply knew as daddy and granddaddy."
Weathers-Boyce described her father as a confident man who was strong and humble "in spite of his accomplishments."
He earned several military awards, including the Distinguished Flying Cross, the Air Medal with seven Oak Leaf Clusters, the American Campaign Medal, the European-African-Middle Eastern Campaign Medal, and the World War II Victory Medal.
The City of Memphis proclaimed June 25, 1945, as "Captain Luke Weathers Jr. Day" and presented him with a key to the city. He was the first African American to receive such an honor.
In 1965, Weathers became the first African American Air Traffic Controller in Memphis. And on March 29, 2007, Congress honored him and all Tuskegee Airmen with the Congressional Gold Medal.
"We're honored Lt. Col. Weathers' family has lent us his name," Vaugh said, "and we promise to live up to the legacy as we service the finest veterans in Tennessee, Arkansas and Mississippi, and the veterans who walk through our doors at all locations."
Weathers died Oct. 15, 2011, at the age of 90 in Tucson. He was given full military honors at his interment – including an Air Force flyover – at Arlington National Cemetery in Arlington, Va., on Jan. 20, 2012. Cohen's office initiated the process.