By Logan Langlois
NASHVILLE, TN — OZ Arts Nashville welcomes Past, Present, & Afrofuturism, a visual art exhibit featuring works by XPayne, a well-accomplished artist whose work can be found across the country, from Slim and Husky's Pizza Beerias to HBO's Insecure. In the journey that XPayne has carefully crafted together throughout the exhibit, visitors follow him while he explores the Black American narrative.
Visitors begin their journey at the narrative's inception and are taken through how it's been influenced by modern times and what it faces during an unknown future. The exhibit is separated into three parts; Past, Present; and Future, each section meant to build on its predecessor, much like a play mapped out by a timeline. Curated in partnership with Clarence Edwards, XPayne synthesizes themes from African culture, Western culture, and Afrofuturism to establish a new Black iconography.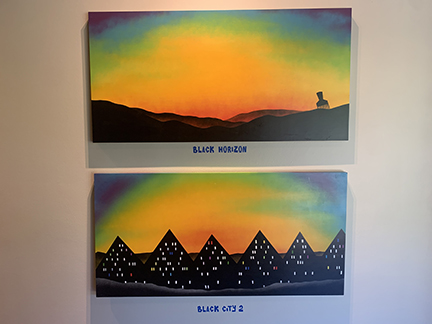 "As I focus on the Black experience, I find inspiration in mixing fantasy storytelling with an African spiritual system," XPayne says when describing his new exhibition.
"My intention with these works is to construct a story inspired by Yoruba that can expand the viewer's idea of what is possible. This collection and Afrofuturism itself are ultimately about accepting and adapting to change."
The exhibit consists of XPayne's portraits lined up down a long, naturally lit hall that visitors open the building's front door into as soon as they enter the building. From there guests walk down the exhibit with each of the sections leading into one another on their right-hand side, while the left is open for doors, big windows, and other art procured from various talents. The hallway eventually ends at the opening of the OZ main room, displaying the studio's logo prominently in the center.
Xavier Payne is an artist and designer who earned his BFA in Design in 2014, whose day job consisted of working as a graphic artist for various companies while laying the foundation for his passion as a painter and illustrator. During this time, XPayne cultivated an audience and gained the attention of high-profile clients, which eventually allowed him to begin working as a full-time artist highlighting social and existential topics. In 2022, XPayne was named "Best Artist of the Year" by the Nashville Scene following the success of his latest exhibition which debuted in August of the same year.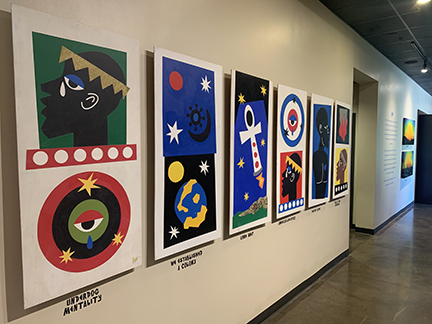 Hosting the exhibit is OZ Arts Nashville, which was founded in 2013 by the Ozgener family and quickly established a reputation for itself as one of the Southeast's more respected producers and presenters of significant performing and visual artworks by diverse cultural visionaries. The art studio makes an extra effort in presenting the work of local and visiting artists who reflect Nashville's diverse society by utilizing new art forms, especially those taking advantage of new technology made available to them today. OZ Arts also claims to focus on producing and presenting work that engages audiences, incoming students, and cultural and civic leaders.
"XPayne's captivating and vibrant series of paintings challenges us all to expand our perspectives and dive into the history and experiences of Black Americans," said Mark Murphy, Executive and Artistic Director at OZ Arts.
The Past, Present, & Afrofuturism art exhibit will be on display at OZ Arts Nashville from now through August 8. XPayne's catalog, as well as many of his everyday artistic works, can be found on his Instagram and Tik Tok under @xpayneart and Tumblr under @xpayne, as well as his website xpayne.com/.