By Clint Confehr
LAWRENCEBURG, TN — Ownership of an 85-year-old school building that's not had classes since desegregation appears headed for transfer from Lawrence County to a non-profit group dedicated to its preservation, Black history and education.
"Should I clap?" asked Kenneth Boyd, a member of West Gains School Community Center Inc. after hearing Community Center President James Wallace announce the intentions of county leaders. "That's great news," Boyd said. He, Wallace and more than a dozen others at the non-profit's meeting applauded Sunday afternoon in the St. John United Methodist Church. It's between the school built in 1937 and the county administrative complex where decisions are being made for the transfer.
Wallace described his discussions with Lawrence County Executive David Morgan who made a campaign promise before his election in August to help West Gains School Community Center Inc. members take possession of the building.
"He's been true to his word," Wallace said of Morgan. "I appreciate the county stepping up."
Preserving the building and transforming it into a community center is a daunting task, according to all involved. The non-profit group is raising money for it and the cost is estimated at $500,000. To publicize the appeal, a website was launched last week. It's westgainesscc.org.
Transferring the old "West Gains Colored School" to the non-profit organization is also going to benefit the county, said County Commissioner Tim Clifton who attended the meeting, and Morgan who's visited with Community Center member Shirley Dennis at the building. Public ownership of the building is a liability. The county is paying higher insurance premiums because of it. That's true for other county properties which are seen as surplus property suitable for public auction. Morgan has indicated that proceeds from the sale of surplus property might be spent toward repairing the old school's roof.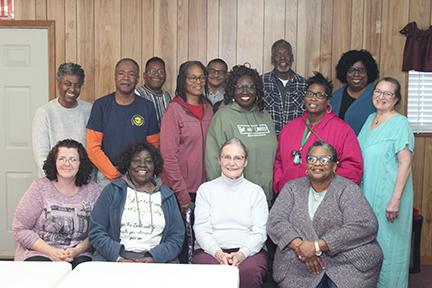 However, before the property can be transferred, Morgan and Clifton have explained that the non-profit group's charter and tax-free status must be verified and adjusted to meet requirements under a state law passed a few years ago to let local governments transfer property to such groups without a public auction. In this situation, education must be a significant purpose for the organization.
"Our vision for it was for it to be a community center, a museum and education center so that we could have kids to come in and study after school," Wallace said last week. "And when it gets rolling good, we'd have tutors to help, and to have (events) in the gym … and have it where kids could have something to do, because kids on that side of town don't have anything."
Another required step is transfer of the property from the Lawrence County School Board to the county commission.
So, as Wallace said, "It's not set in stone yet."
There are other advantages to transferring the building's ownership. Doing so will make the organization eligible for grants and assistance from the Center for Historic Preservation. Based at Middle Tennessee State University, the center's leadership has expressed an interest in documenting the building's history. That could be used in an application for government support. It's been done before. In Murfreesboro, a building that was once a school for Blacks during segregation was transformed into a museum and public education site.
The prospect of transferring the property from the county to the non-profit group was seen Sunday as a significant development for the project that's been supported with private gifts and the subject of the Third Annual Save the School program on Feb. 18.