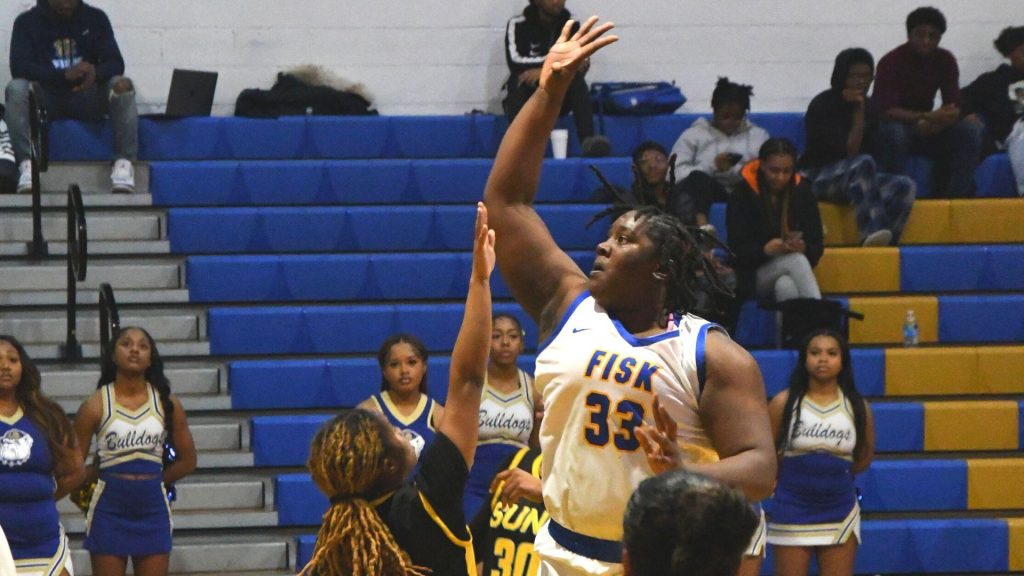 NASHVILLE- Victoria Crawford knows talent. In her first year as the Fisk University Women's Basketball Team's head coach, she has brought in players that have already surpassed the most Gulf Coast Athletic Conference wins in school history. The newcomers, mixed in with some solid holdovers, are making noise in conference play. The team is on the verge of winning 20 games for the first time in the 21st century.
Fisk post player Maya Buckhanon transferred in from Lincoln (Il.) College with Crawford. The 6'3 senior came into the season relatively unknown to the Nashville community and GCAC teams. Her 21 points and 20 rebounds against NCAA D1 Tennessee State University were brought to notice. She broke the modern-day school record by scoring 45 points against Indiana Southeast. In five games this season, she has surpassed the 20-rebound mark.
This week she earned her seventh conference Player of the Week honor on the season and her fifth in a row. Buckhanon leads the country in rebounds per game (15.7). Her 19.9 points per game and 56.7 shooting lead the GCAC.
Buckhanon, freshman Anaya Davis and Cane Ridge High School product Aniya Young have dominated the conference in rebounds. The control of the boards has been a critical point for the Lady Bulldogs to sit tied with Philander Smith College for second place in the conference. They go into this weekend's action one game behind the GCAC defending champion Rust College Bearcats. All three teams will face off this weekend in Little Rock, Arkansas. The games will be crucial for postseason seeding.
"This weekend is huge for us, so I hope we are ready," said Crawford. "I only dress eight players, so we must focus on the task. I don't get caught up with history, so I didn't know about having the most wins. I want us to get better every day and let the chips fall where they may."
The chips have been falling well lately. Fisk has won eight out of their last nine games. Their only loss came to Rust in their third game in as many days in New Orleans. This Friday at noon, they will try to avenge that loss. They also will take on the home team Philander Smith on Saturday, then finish the weekend with a Sunday game against Dillard University.
Teams keying on Buckhanon helps to open it up for other players to shine offensively. Anaya Davis is fourth in the GCAC in scoring, averaging 12.3 points per game. Sophomore Daigeona Guinn is a tick behind her, averaging 12.2. Junior Zip Davis (11.2) rounds out the players in double-figures. Senior Mya "OG" Allen is averaging a solid 9.7. Fisk also leans on sophomore Laila Eliotti, who had 35 point game last year as a freshman.
The secret is out about Fisk. Let's see how they fare this weekend and the rest of the season.